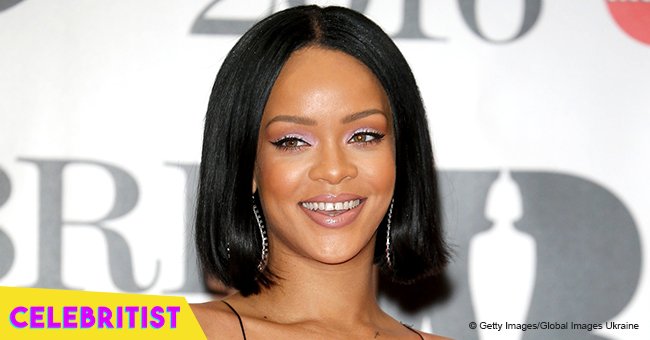 Rihanna shakes her cleavage in yellow & blue bra while showing off new blond hairstyle in video

Worldwide famous pop-star Rihanna took to her Instagram Story to share a video that attracted a lot of attention, especially because of her new hairstyle.
The Instagram account of The Shade Room saved the video and the photo shared by Rihanna and uploaded them to their page. The short recording was a Boomerang that portrayed the singer with a rabbit filter moving up and down.
Since she was wearing a pale blue and yellow bra, her breasts shook with her movement. Apart from her moves and her bunny-like face, the most noticeable aspect was her hair as she opted for dying it in blonde.
For the caption, The Shade Room pointed out that Rihanna probably was trying to see if blondes really have more fun.
The second image of the slideshow showed the singer with the same filter but a different bra as it was all blue. As soon as the slideshow was shared, Rihanna's fans and followers took to the comment section to share their thoughts.
One of them was Instagram user @prizzilla, who admitted that blonde was the best color on her as it makes her eyes and skin 'pop.' User @bbygchanel added that Rihanna looked good with all the hair colors.
That video was uploaded weeks after she and her boyfriend Hassan Jameel were spotted in Mexico in the middle of a heated conversation. The images shared by The Shade Room portrayed Rihanna pointing at Hassan with her index finger while her mouth was open as if she was yelling.
The second photo showed Hassan with his hand on the chest while talking to Rihanna as if he was offended by something she said. The final image displayed the singer with a cigarette in her hand and a grimace on her face.
As Celebritist previously reported, it was thought that Rihanna and Hassan had broken up as they were not seen together for a while up until that Mexican getaway.
The truth is that she has kept her relationship with Hassan under the wraps. Reportedly, they have been dating for more over a year, but there are not many details about it because they are barely seen in public together.
Please fill in your e-mail so we can share with you our top stories!