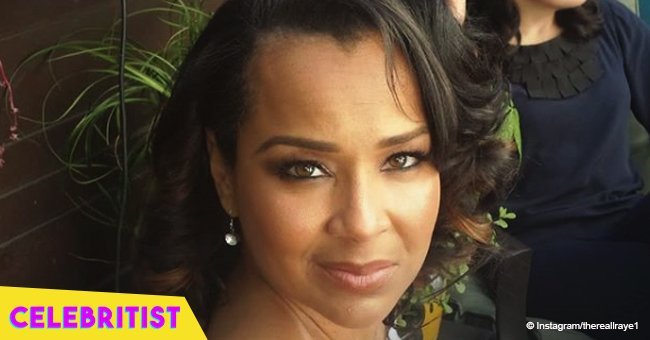 LisaRaye McCoy, 51, flaunts washboard abs in top & leggings after showing off her engagement ring
The actress, model, businesswoman, and fashion designer recently got engaged during a surprise proposal, and she and her beau look happy and relaxed in photos.
LisaRaye McCoy and her fiance, Anthony Bryant, got engaged on July 9. And while she has been basking in the glow of the heart-shaped glasses she is no doubt currently wearing, she is still keeping up her exercise routine.
In a recent photo she posted to Instagram, she can be seen flashing her tight abs in her workout gear, striking a pose as her trainer, who goes by Fitnessiam on Instagram, stood next to her pointing at her stomach for extra emphasis.
The pair were standing against a dark red brick wall, with workout gear in the background next to McCoy.
"Ah ha.... it's coming back. I feel good after starting back on my workouts. Thanks @fitnessiam for your constant support on making sure I stay on it. Let's go!!! #Liferocks #workout" she wrote in the caption.
McCoy wore a pair of grey gradient yoga pants that came just below her knees, and a black sports bra with a white accent. She also had a pair of black and white arm warmers on. She posed with her one arm above her head, leaning the other on her thigh.
Her trainer stood next to her, wearing a white t-shirt, a pair of loose blue trousers, and a backwards black baseball cap. His pointing at his fiancee's abs also caused a flex in his biceps, showing off his own impressive muscles.
McCoy and Bryant's engagement was documented on The Proposal reality television program, and shared to the show's Instagram account.
The two-image post showed the couple showing off the ring in the first image, smiling happily at the camera as Bryant pointed at the ring on his girl's finger, while the second showed Bryant down on his knee actually in the process of asking the question.
"Lisa Raye and Anthony are still together and were LOVING their viewing party last night. Thanks for sharing your love story with us! #TheProposal," read the caption.
Bryant has also shared a photo of the pair with McCoy's ring on full display, as the couple prepared to make an appearance on Access Live.
The couple were seated on a sofa, looking relaxed as McCoy leaned on her fiance's leg as he held his arm around her waist.
McCoy wore a thin white button-up dress and a pair of diamante heels. Her curly hair was left hanging loose about her shoulders, and appeared to have a hat on.
Bryant wore a pair of grey trousers, a pink button-down shirt, and a white blazer.
Please fill in your e-mail so we can share with you our top stories!