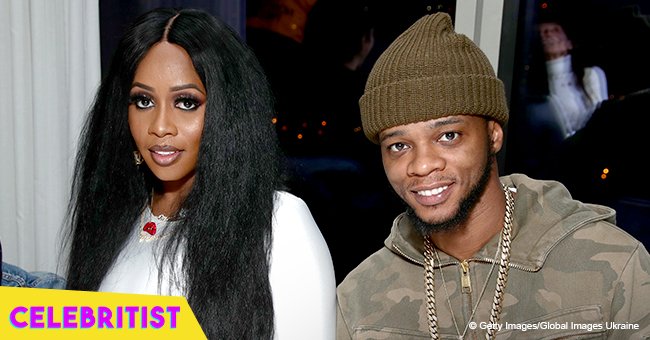 Remy Ma shows off legs in high heels and red dress in recent pic with Papoose
Remy Ma and Papoose are brimming with excitement as they await the arrival of their first child together. In a recent post, the couple reveals they're counting the days as they cozy up to each other.
Expectant parents Remy Ma and Papoose couldn't be more excited about the arrival of their first child together. They recently shared a photo of the two of them lounging in what appeared to be a hotel lobby as they expressed their impatience waiting for their child to be born.
Remy flaunted her long shapely legs as she sat on her husband's lap wearing a red floral dress and high heels. She also showcased her cleavage, no doubt developing even further as she enters motherhood. Papoose was dressed in a black blazer over a white shirt and white pants. He also donned a hat as he cradled his pregnant wife who still glowed in her delicate condition. The photo was captioned,
"Impatiently counting down the days! Can't wait to meet our unborn child."
Their message was an indication they were more than ready to be parents together after being married for 10 years. They recently renewed their wedding vows to mark their decade-long union with a lavish celebration. The couple reaffirmed their commitment to their marriage that day and also made the announcement that they were expecting a child.
In a post following their announcement, Remy shared details of her pregnancy including the fact that she already lost 7 pounds due to pregnancy sickness. It was also revealed she was on her 16thweek, a clear sign their baby was in good condition and on its way.
Back in 2017, Remy suffered a miscarriage due to an ectopic pregnancy causing a lot of pain for the singer who also had a troubled past. She served seven years in jail after shooting a friend in the stomach during a fight. Moments before her sentence, she tied the knot with Papoose. She was released in 2014.
The 'Love & Hip Hop: New York' stars are already parents from previous relationships. Remy has a son, Jayson, while Papoose has three children. In a few months, they get to be parents together for the first time and nothing could be sweeter than that.
Please fill in your e-mail so we can share with you our top stories!