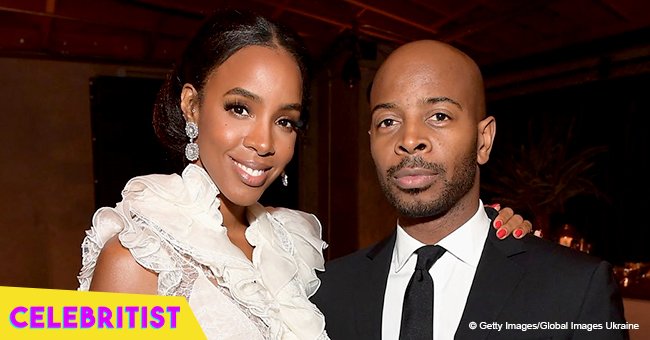 Kelly Rowland's husband shares edgy photo of her in black & white suit for Vogue Australia
Kelly Rowland is on the cover of the latest issue of Vogue Australia as her husband proudly reveals. The singer who now resides down under due to her commitment to the Australian version of 'The Voice' opens up about her stint on the show, her forthcoming album, and her family life.
Kelly Rowland's husband recently shared a photo of his gorgeous wife who graces the new issue of Vogue Australia. The singer fashions an edgy look in her cover photo bearing the confidence of a star who was just crowned the coaching queen in 'The Voice' and who's poised to launch her newest album. This she does while nurturing her marriage to Tim Witherspoon and raising her three-year-old son Titan.
Kelly leans back as she sits on a chair wearing a fashion-forward suit mixing black and white leather in the photo her husband proudly shares on Instagram. The singer sports big hair and pointy boots while looking relaxed and confident in her own skin.
The former member of 'Destiny's Child' has come a long way since their all-female band split up and while she seemed destined to remain in the shadow of her more popular "sister" Beyonce, Kelly is proving she has what it takes to be a superstar in her own right.
As a coach of 'The Voice' in Australia, Kelly recently earned acclaim for leading her protégés Sam Kelly and Bella Paige to the finish line. Sam was hailed the winner and Bella the first runner-up in the just-concluded seventh season of the show. Speaking about her job as a coach, Kelly reveals,
"It's been a great season of 'The Voice'. From the energy between the coaches, and the new talent, this year has been exceptional. People are looking for something new and refreshing to catch on to and be excited about; they operate off passion. And people smell bullshit: they want honesty. If there's even an ounce, they call it out." Rowland has been honest all the way through.
"It would be nice to win, but it's the journey and I want to really tell people about the artists who are here. If you have a vested interest you really want them to shine and do their best. Sam [Perry] is very clever. Bella … it just happens with her because she is 16, and because she has this dynamic, I can read her body language. We are in tune and that's a good thing."
While fulfilling her hosting duties, Kelly has also been busy working on her newest album which is long overdue since her last was five years ago. She admits to Vogue it was a struggle getting back in the game but knew she wanted it.
"I was thinking about pulling back from recording but I couldn't help myself: I still wanted to record. I still felt like I was missing something. The third year just came and left so fast. The fourth year I said: 'I have to get to work' and now I'm ready to release some music! ... I felt like I wasted so much time, and it was my husband who actually called me out on it. He said: 'Babe, as great as those records were, I think you were nervous, you got gun-shy', and when he said that it was like boom, a gong went off."
Kelly also admitted she hesitated due to people saying it was tough selling records after having a child which, as stars like Beyonce and JLo prove, is a total fallacy.
"J. Lo defied that and said it's not the case, Bey did it … all these women do it and I was like: 'Fuck it, I'm going to do that too.' And that's when I started to pick up the pace a little bit. Then I got into the studio and started to find the groove and now the groove is there, it's rolling."
Kelly reveals her latest record will be extremely personal.
"If I feel it or think it and it touches me in some way, then I think it's going to do that to somebody else, too."
"It's about love, loss and gain and whether it's professional or with family or whatever, it's just honest. I had no choice but to be honest and authentic with this record: it's about friendship and marriage."
Meanwhile, amid the fame and success of her career, Kelly remains grounded because of her relationship with her husband. She admitted hesitating in the beginning and trying to fend off marriage but gave in when she realized Tim was the one.
"Marriage is awesome, it has its ups and downs, like anything in life, but it's incredible. My husband is my rock, my best friend. He believes when I don't, believes that anything can work and that anything is possible in such a positive light."
The couple married in Costa Rica in 2014 with only 27 important people in their life in attendance. They welcomed their son Titan, 3, in November 2014.
Please fill in your e-mail so we can share with you our top stories!