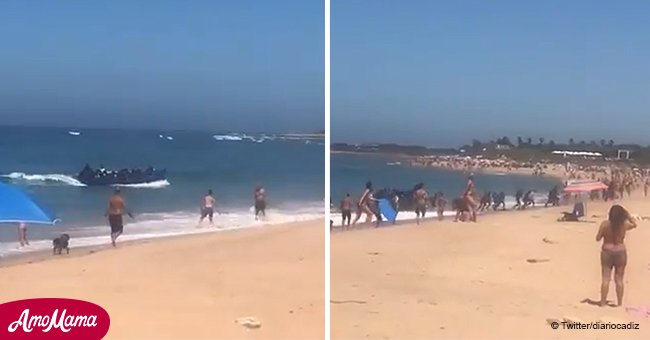 Migrant boat lands on Spanish beach and stuns tourists
Video captured by tourists on a Spanish beach showed migrants arriving in their packed boat, jumping off it, and storming past them.
The landing took place near Zahora, a town in southern Spanish, and the footage was shared on Twitter on July 28, 2018.
The moment took everyone by surprise when about 50 migrants landed on a packed beach. They then sprinted across even as tourists looked on.
Read more on our Twitter account @amomama_usa.
The African migrants arrived in their rickety wooden boat and jumped off it as it reached the land. A man on the beach pulls his children out of their way, and two men stop their game of beach tennis to watch the commotion.
A few tourists walking along the water's edge, run towards the crowd around a woman migrant lying injured in the mass arrival.
The astonishing sight was witnessed around noon at a beach in the Zahora in Cadiz province, near the headland of Cape Trafalgar.
The Daily Mail reported that migrants asked beachgoers for food and water after arriving on the Spanish land. They arrived in a boat called a 'patera' in Spanish.
President of Spain's National Federation of Self-Employed Workers, Lorenzo Amor, who was present at the time on the beach tweeted that another boat had arrived on the coast.
He wrote, 'Arrival of a new patera on the coast of Cadiz. Right now at Zahora beach next to the Trafalgar lighthouse. The people inside the boat asking sunbathers who are on the beach for food.'
Among the migrants, only one woman was in need of immediate medical attention as she had hurt her arm. She was the one who was filmed lying on the sand.
Authorities were unaware of the whereabouts of the others who had raced away from the boat.
A day before the incident, coastguards rescued 284 people in more than a dozen boats in the Straits of Gibraltar, which has turned out to be a favorite route of migrants coming in from African into the European country.
The distance between Spain and Gibraltar is just over nine miles through the strait. The inter-governmental organization International Organisation for Migration said the number of refugees reaching Spain has seen a thorough increase over the last year.
The number of refugees and migrants using the western Mediterranean route to reach Spain crossed 20,000 between January 1 and July 25, 2018, as against 22,108 people who used it in the whole of 2017.
Please fill in your e-mail so we can share with you our top stories!