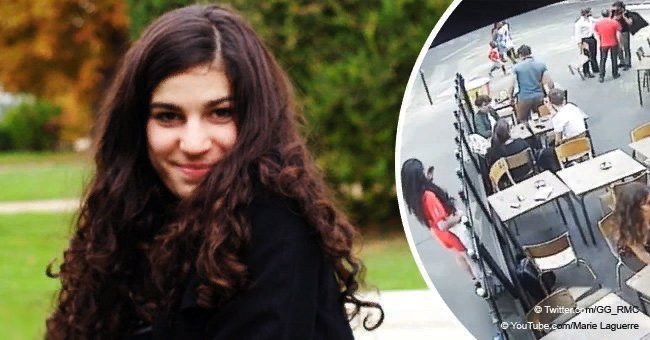 Viral video of young woman punched in the face by sexual harasser sparks a probe

On July 24, a woman named Marie Laguerre was sexually harassed by a stranger in broad daylight. When she retaliated by telling him to 'shut up' the man punched her in the face.
The assault occurred outside a café where a bunch of people tried to defend the woman as her attacker walked away. It's been reported that the man has still not been apprehended.
Marie Laguerre, 22, a French woman, posted a video of herself being hit in the face by a bearded man in the streets of Paris. The video went viral on social media and prosecutors have since launched an investigation.
In a YouTube post of the video, Laguerre shared that she was coming back home in Paris and walked past a man who sexually/verbally harassed her. As she walked away from him she muttered, "Shut up slipped out as I walked. I thought he wouldn't hear but he did... "
For more on this story go to our Twitter account @amomama_usa. He retaliated by throwing an ashtray at her before coming up and punching her in the face
Shocked diners close by who saw the incident tried to defend her and spoke to the man before the stranger walked away. After the attack, Laguerre I came back and the witnesses were very supportive of her.
"It happens everyday; everywhere and I don't know a single woman who doesn't have a similar story. I am sick of feeling unsafe walking in the street. Things need to change, and they need to change now."
Marie Laguerre, YouTube, July 28, 2018
The young woman revealed that the stranger wasn't the first one to harass her that way. She couldn't accept being humiliated like that anymore, hence her reply to him.
Laguerre said that kind of behavior was unacceptable. She's filed a complaint against her attacker and a spokesperson for Paris prosecutor's office said an investigation for "violence" and "sexual harassment" had been opened.
The man who punched Laguerre has not been arrested yet. The video, from a surveillance camera of a cafe, was given to Laguerre by the owner.
Marlene Schiappa, France's gender equality minister said she was "outraged" by the incident. A new law was adopted by the French parliament that would impose minimum fines of $105 US dollars for offenders.
Rachel Krys, the co-director of Britain's End Violence Against Women Coalition said with regards to such cases against women, "But we need more than a change in the law - we need a culture change, and more provision and counselling for victims of sexual violence."
Please fill in your e-mail so we can share with you our top stories!