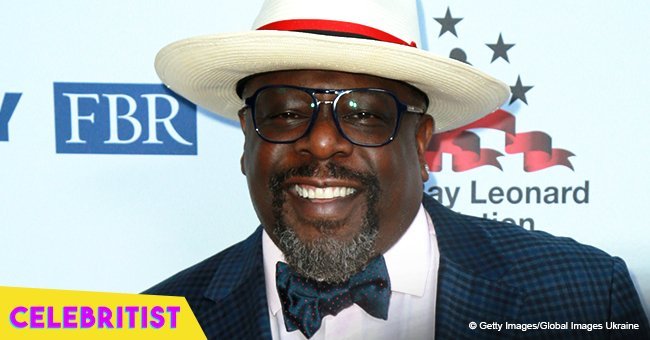 Cedric the Entertainer is all smiles in picture with his beautiful wife and children

Popular actor and comedian, Cedric the Entertainer is the perfect image of happiness in this Instagram photo. The Johnson Family Vacation star shared the post of what looked to be a vacation snap featuring his wife, Lorna Wells, and children, Tiara, Croix, and Lucky.
The entire family is pictured backing the ocean at a scenic location and Cedric is not the only one with smiles. He captioned the photo:
"Sunset with the Family. Counting all these blessing including the flowers...."
After the post went up on Cedric's Instagram, his fans took to his page to gush over the picture and shower blessings on his family:
"Family is all we have and we will have it at any time in our lives. I love it when I come across a close family.. God Bless you"- @Camargovan

"Continued BLESSINGS to you and your family Ced and CONGRATULATIONS again on your star in Hwood!!!"- @1rodgersb

"Blessings and blessings brother. Been a fan since def jam and comic few. Admire your grind and success. Cheers brotha."- @Backandblacker
Apart from the blessing of a happy and healthy family, Cedric was being grateful for his latest honor. The TV personality was inducted into Hollywood history last month when he received his star on Hollywood's Walk of Fame.
He had his wife and youngest daughter in attendance and couldn't help reminiscing on his 30 years in the entertainment industry so far. He said:
"On my star day, its official and it's so great to be recognized. I've been doing this a long time, starting in stand-up then having the opportunity to go to television and film." He noted that it was a blessing for him to have gotten the honor of receiving a star.
Reminiscing, the devoted family man explained: "Long before the world came to know me as the chubby Denzel of comedy, St. Louis - performing in the clubs, the bars, the backyards - my hometown St. Louis was my proving ground. ...Often entertaining people for no money. Just, they said we'll pay you some wings, some Hennessy."
Cedric was also joined by friends like Magic Johnson and George Lopez to celebrate his big day.
Please fill in your e-mail so we can share with you our top stories!