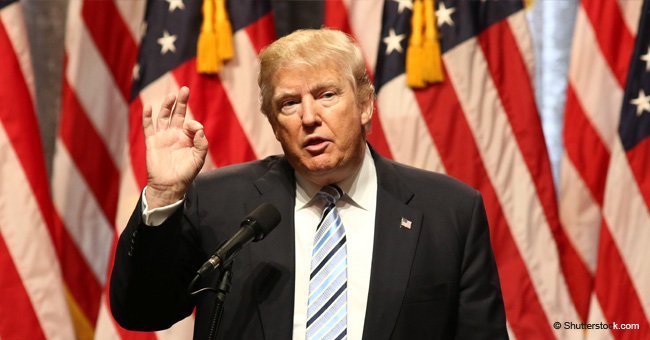 Donald Trump makes serious 'mistake' while coloring American flag with children

President Donald Trump has been receiving criticism on Twitter for his representation of the American Flag.
After the U.S. Department of Health, Alex Azar, shared photos of President Trump coloring in the flag, netizens have pointed out that the Trump used the wrong colors.
Some of their replies can be seen below. Read more on our Twitter account, @amomama_usa.
While many had been mocking him, saying he doesn't truly respect the flag, others have spoken out in his defense with possible reasons for "miscoloring."
The Star-spangled banner does indeed consist of red, white, and blue, but Trump was seen coloring one of the stripes blue instead of red.
The flag has 13 red and white stripes to represent the 13 colonies that declared their Independence from Britain in 1776 and 50 white stars on a blue background.
A Twitter user known as Lynette Johnson said Trump was honoring the late John McCain with the blue stripe, and that he was drawing the flag for US Internal Waters.
However, another user called Di Hill, shared a photo of the US Internal Waters flag to prove that the coloring was still incorrect.
Robert Trader pointed out that Trump "supports cops," hence the blue strip. Again Twitter users were quick to respond that he colored the wrong line blue if that was the case.
Another user reminded Trader that the Thin Blue Line Flag only consists of blue, white, and black, and has no red lines. Trump's image had a red line as well.
A user known as Mark Compton added that the Thin Blue Line Flag "is a drastic disrespectful violation of the United States Flag Code" too. Thus Trump was still disrespecting the American Flag.
Transplant surgeon from Dallas, Greg McKenna said Trump was actually recreating the Russian Flag and added: "Now that's what I call a Freudian Slip."
Please fill in your e-mail so we can share with you our top stories!