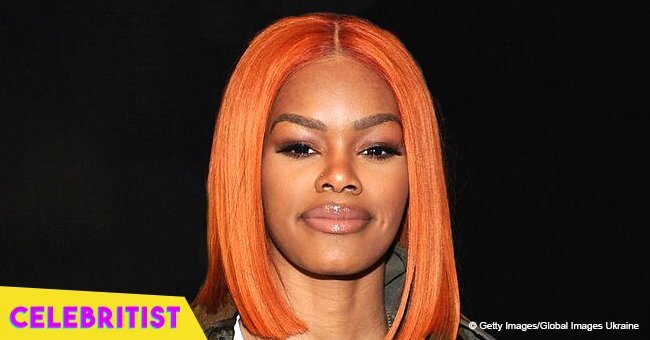 Teyana Taylor melts hearts with pictures of adorable little daughter looking serious

You don't want to mess with Iman 'Junie' Shumpert! Not after seeing the pictures her mother shared recently.
Teyana Taylor shared a couple of pictures where her two-year-old daughter, Junie, had on a serious face quite unusual for her age.
The toddler wore a pastel pink T-shirt with roll-up sleeves and a front knot. She paired it with matching bottoms and white sneakers.
Junie's hair was styled in neat braids and embellished with tiny beads, but it was more than her ensemble that made the pictures an instant internet hit.
Fans wondered what could be on the little girl's mind and her famous mom provided that piece of the puzzle:
"She[sic] thinking of a master plan"
We're not sure what Junie needs a master plan for, but it may have something to do with her mother's album "Keep That Same Energy," that was released in June. Back in May, the "Gonna Love Me" singer announced that little Junie would be playing an important role in the creation of her album:
"Yes, actually. She's getting producer credit... Junie working out here."
And Junie did not stop there. She accompanied Taylor on a press tour to promote the album last month. Junie stole the spotlight when her mom made an appearance on the "Angie Martinez Show."
Establishing her boss status, the adorable tot grabbed the studio Mic and promptly announced her mother. She proceeded to prove herself a chip off the old block, singing along to "Issues/Hold on," one of the singles on Taylor's new album.
But Taylor, who is also a talented dancer and actress, has made it known that her daughter is under no compulsion to tread the entertainment path:
"Honestly, like one thing we want to do is give Junie the freedom to do whatever it is her little mind desires because sometimes she's singing and she's playing in makeup, and she's putting on lipstick, and she's dancing, but then she'll turn around, pick up a basketball, and she's trying to hoop."
The 27-year-old Harlem native further stressed:
"We don't know if she's gonna be a basketball player or model, singer, businesswoman- whatever it is, I always want to give her the opportunity."
Taylor and her husband, NBA star, Iman Shumpert, welcomed their daughter, Iman "Junie" Tayla in December 2015.
Please fill in your e-mail so we can share with you our top stories!