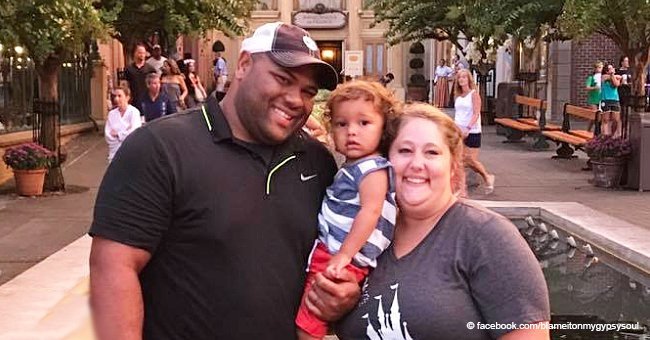 Family asks stranger to take pictures of them, but then the man returns with a tearful request
When a husband and wife and their little son went on a holiday in a Disney theme park in Florida, they never imagined that asking a couple of strangers to take their picture was going to end up being so meaningful.
On July 14, 2017 Taylor Fisher took to her Facebook account to share the emotional episode she and her husband Chris and their son Oliver lived on their recent visit to Epcot Center.
The family of three went for a stroll at Epcot's World Showcase after having dinner in "Norway," to take a tour and take some photos together in the different countries featured in the exhibition. Read more on our Twitter account @amomama_usa
They stopped by the replica of Eiffel Tower to have their picture taken, and a nice couple that walked by them volunteered to do it for them. Oliver wasn't in the best disposition, but the couple was patient enough and took their time.
Chris and Taylor thanked them and the two families went separate ways. The event was nothing extraordinary for Chris and Taylor, until, minutes later they ran into the strangers once again, seeing them visibly affected.
As Taylor recalls on her Facebook post, the man who had taken their picture approached them with tears in their eyes asking them to listen to what they had to share for a minute, promising that it was nothing "creepy."
The couple they had met minutes ago introduced themselves as Scott and Sally and told them about their three children that were in the park, and a fourth one who was "spending his first birthday in heaven."
It turns out that on the day the two couples crossed paths Sally and Scott would have been celebrating their son Duke's first birthday if he had not passed away a few months before.
"Oliver reminded them so much of their little boy they asked to take him to Mouse Gear's on a shopping spree for baby Duke's first birthday," wrote Taylor in her heart melting post that was shared 27.000 times.
Sally and Scott's feelings were so evident that Taylor and her husband felt they could trust them, and handled them their little Oliver to let them walk in the store with him as they followed closely.
"I watched the sorrow turn to hope each time Oliver picked up a toy and hugged [Sally] thank you. As Oliver reached "up, up" I watched Scott's pain start to fade as he held Oliver and wept into his head. Through an act of their own generosity, I witnessed a couple begin to heal from the grief and ache of loosing something so dear."
-Taylor Fisher, Facebook, July 14, 2017.
After the grieving parents finished shopping for Oliver, the two families got together to pray, with Scott and Sally thanking God for giving them this beautiful opportunity for the kind of closure they had to experience to make peace with their memories.
Life has the strangest ways to surprise us, and sometimes when everything seems lost for some people, they find the way to find solace in other people's happiness and can continue their lives with a renewed hope after the difficulties.
It was the case for a woman who could hear her beloved son's heartbeat 3 years after his tragic passing in a car crash, after meeting the man who received her late son's heart and, with it, a second chance to live.
Please fill in your e-mail so we can share with you our top stories!