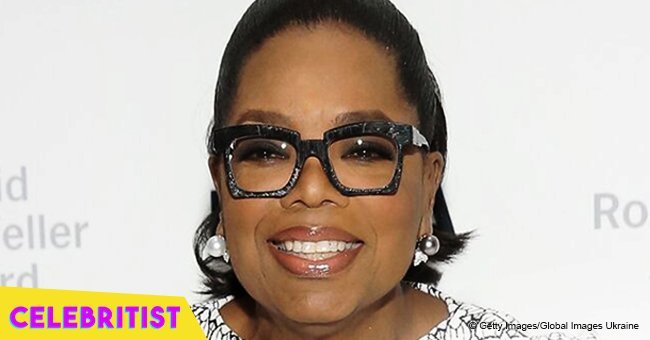 Oprah flaunts her curvy figure in low-cut green gown after dramatic weight loss

Oprah Winfrey is a vision in green as she flaunted her curves in front of the Eiffel Tower. So far, the media mogul has been enjoying the results of her dramatic weight loss last year, and it's not just about the looks.
In the video Winfrey shared yesterday, she and two friends goofed around in front of a lit Eiffel Tower. The "OWN" boss stunned in a green gown that hugged her curves perfectly and showed off some cleavage.
One of the other persons captured in the video was Winfrey's best friend, Gayle King. She chose a glittering monostrap gown that also displayed her impressive physique.
The third female in the video wore a blue maxi dress with a plunging neckline. All three looked like they just attended a dinner event and were visibly excited.
The video began with the group hollering in delight as Winfrey declared:
"We love Paris."
King agreed with her close pal, adding that they love it "any time of the year."
Winfrey revealed in her caption that they were in Paris for a friend's wedding. The 64-year-old was light on her feet in the video, evidence that she not only looked good, but she also felt good. Apparently, deciding to lose weight and sticking with it was a good choice.
WHY OPRAH DECIDED TO LOSE WEIGHT AND STICK WITH IT
The "A Wrinkle In Time" star once weighed 200lbs but by the beginning of 2017, had lost 42lbs. When Oprah began her weight loss journey, she clarified that her decision was prompted by health concerns.
"All of the people who are saying, 'Oh, I need to accept myself as I am' — I can't accept myself if I'm over 200 pounds, because it's too much work on my heart. It causes high blood pressure for me. It puts me at risk for diabetes, because I have diabetes in my family."
PUSHING FOR MORE
In a more recent interview with People, Winfrey said that although she's happy with her current weight, she has a goal:
"I really want to get more fit and stronger. …My goal [is] to be 65 and you all say, 'What happened to Oprah? She is ripped.'"
Please fill in your e-mail so we can share with you our top stories!