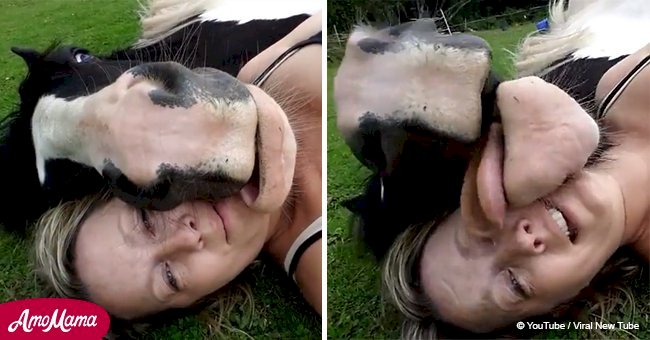 Woman and horse make a video selfie behaving like best friends and it's so sweet
A woman gets lots of sloppy horsey kisses from her best friend.
Lisa Brown from Herefordshire, England, UK, has shared an absolutely unique video of herself and her horse Jimmy on YouTube/ Viral New Tube on October 1, 2018, and the unique clip has people in stitches.
After riding her horse, Brown decided to have a rest, stretching out comfortably on the sweet green grass when something incredible happened.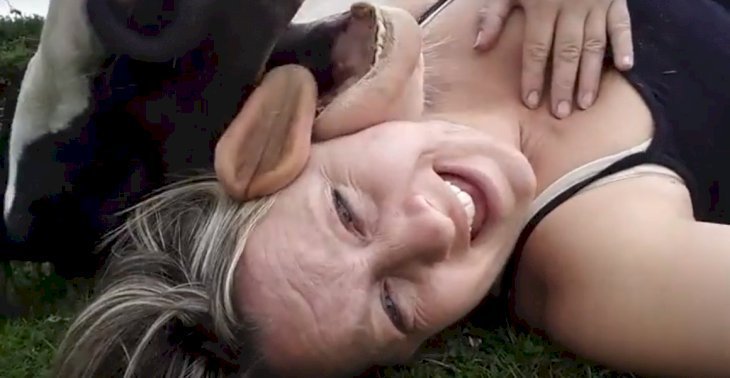 Source: YouTube/ Viral New Tube
"I was scratching and stroking him, and he began to lean on me and then pushed me gently back until I was basically his human pillow! Jimmy has a very peaceful nature, but he's also a comic genius!"
JIMMY WANTED A NAP AND A CUDDLE TOO
Jimmy, Brown's black and white horse decided to join her and lay down on the grass next to her.
Not content with the distance between himself and his owner, Jimmy snuggled closer and did something very unusual.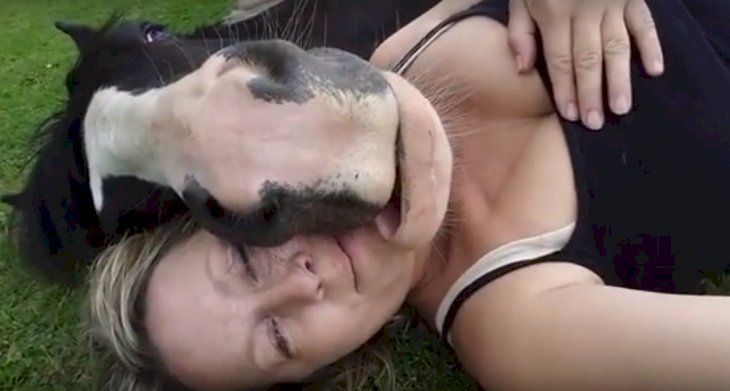 Source: YouTube/ Viral New Tube
A HORSEY KISS AND CUDDLE
Jimmy proceeded to rest his big head on Brown's effectively using her face as a pillow, and started mumbling at her cheek with his lips, giving her snuffly horse kisses.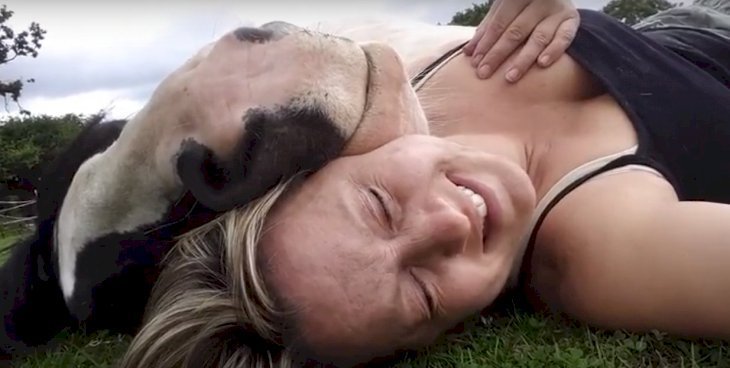 Source: YouTube/ Viral New Tube
SHOWING THAT LOVE WITH A GOOD LICK
Obviously still feeling needy, Jimmy then started licking at Brown, flopping his huge tongue onto her face, much to the woman's amused discomfort.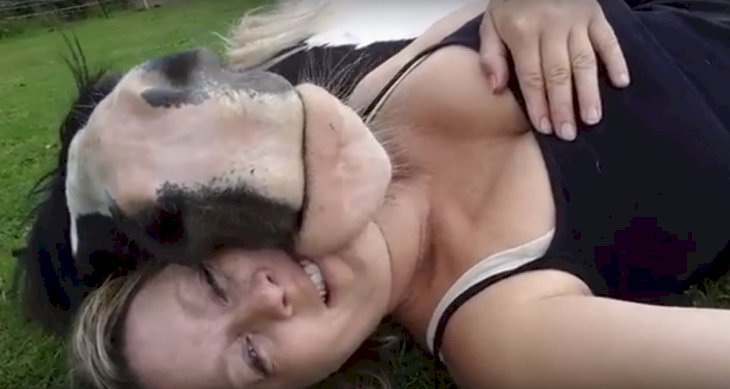 Source: YouTube/ Viral New Tube
PUPPY LOVE FROM A BIG HORSE
Jimmy's attitude is similar to that of a giant loving puppy who just can't get enough love and attention no matter what. Brown will surely be more careful about where she lies down for a nap from now on, lest she be kissed to death by her loving Jimmy.
IF JIMMY IS CUTE, WAIT UNTIL YOU MEET ARTHUR
Arthur had been born and bred on her farm and spent his salad days frolicking in the fields with two New Forest poneys called William and Hairy.
When Sue had the opportunity, she brought Arthur back and took him in to meet his old friends, wondering how the three animals would react to each other.
Sue led Arthur into the pasture where he first caught sight of William. The two horses began running toward each, whickering and rubbing their necks together tenderly. Soon Harry ran up and joined in the love fest.
The trio had never forgotten each other, and their reaction on meeting again after 4 years showed how much they loved and missed each other.
In a related story, a vet found a wild horse with its legs chained and he rescued it from a certain an painful death - and the animal thanked him.
Please fill in your e-mail so we can share with you our top stories!