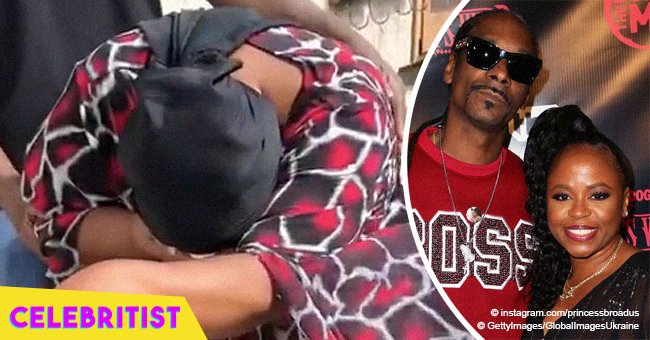 Snoop Dogg's wife brings mother to tears after buying her a new car
Shante Broadus is a grateful daughter who loves to take care of her mother, and she proved it with one of her recent gestures, captured on video by Cori Broadus, her youngest child with Snoop Dogg.
The Boss Lady, as she proudly calls herself on social media, recently surprised her mother with a brand new car, and the emotional moment was caught on video and shared on Instagram by Cori "CHOC" Broadus.
In the clip, Cori's grandma can be seen entering the front yard of her house and immediately bending down to cry while supporting her weight on her silver cane. The lady is wearing a printed red and black t-shirt, black leggings and matching sneakers. She also had a black headwrap on her hair.
"Surprise!" yells Cori, as her grandma is overcome with emotion while a young man makes sure she doesn't fall. That's when Shante comes forward with a massive smile on her face, taking her mother's hand and leading her slowly to the car.
While the lady wipes her tears away, a smile spreads on her face, showing how grateful she is for the thoughtful gift.
"Mama bought Nana a new car today sooo beautiful! Can't wait to surprise you like this mom," Cori captioned the video.
Fans immediately filled her comment section sharing their thoughts on the video and Shante's action. One user wrote "Awesome mother that loves her mother unconditionally.... well-done love!" and another added, "Such a blessing to be able to still have your mom to shower with blessings," and a third one said "Awwww!!! Moments like these make life worth it."
THE BOSS LADY GOES FITNESS
Meanwhile, Shante has been working on her getting a slimmer figure these past months. After 21 years of marriage and three grown kids, it seems like the 46-year-old has finally found some time to take care of herself fully.
She's continually sharing videos of her dance routines, which is her starter fitness activity, and not only has she proved she'd got moves, but the results are starting to show in her much slimmer figure and confidence.
Shante even gets her daughter Cori involved in the routines from time to time, and now that the teenager is staring her career as a musician, is only right for her to show off those dance moves as well.
On her role as a mother, daughter, entrepreneur, and philanthropist, Shante told BCK Online a few years ago that:
"I'm a Boss by nature. Whether it's at home, in the office, it doesn't matter. God doesn't put too much on our shoulders that we can't carry… So until my back breaks, I'll be putting in more work!"
THE NEXT GENERATION
Shante and Snoop Dogg recently became grandparents for the second time, as their eldest son Corde Broadus welcomed a baby girl with his girlfriend Soroya Love.
The adorable baby was named Eleven, and she has an older brother, 2-year-old Zion, who Corde shares with former partner Jessica Kyzer.
The Boss Lady recently took to Instagram to officially introduce the newest addition to the family to fans, and she did so by posting an adorable photo of the sleepy baby donning a pink outfit and looking like the cutest angel in her fluffy blanket.
"The New "BossBaby" #11Love #MamaTae," she captioned the pic.
Shante is proud of her family, Corde is a father of two, Cordell is a model and Cori is making her way into the industry. Meanwhile, she and husband Snoop Dogg keep going stronger in their marriage.
Please fill in your e-mail so we can share with you our top stories!