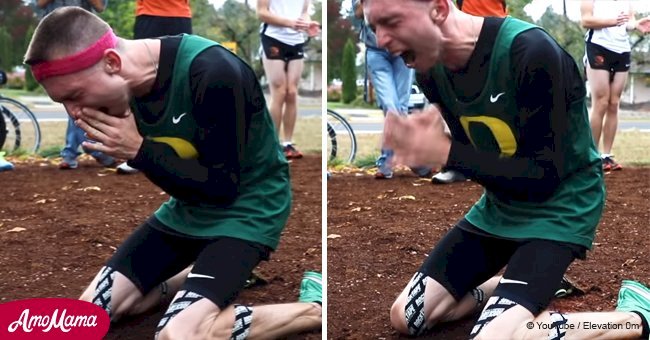 Athlete burst into tears learning he became first guy with cerebral palsy signing Nike contract
October 6, was World Cerebral Palsy Day. An athlete named Justin Gallegos, who is also living with the disorder, took part in the celebrations by competing in a cross-country race.
Little did he know that the race was just a front for a big announcement he was about to receive. Video footage showed him getting a gift that fulfilled his wildest dreams.
Justin Gallegos is a University of Oregon student who took part in a cross-country race last week. Present at the race was Nike's insights director John Douglass.
A clip showed how the race was used to give Gallegos the biggest surprise of his life. When the race was done, Douglass announced that Nike was signing him as their first professional athlete with Cerebral Palsy.
For more on this story go to our Twitter account @amomama_usa. In the video, the athlete is shown breaking down in tears as he absorbs the incredible news.
On Instagram he wrote:
"You don't realize how realistic and emotional your dreams are until they play out before your very eyes! Signing this contract was a huge success for me and I would not have made it without my friends and family and teammates! This was perhaps the most emotional moment in my seven years of running!"
He said the thought of becoming a professional athlete when he was younger was "like the thought of climbing Mt. Everest." Having Cerebral Palsy meant Gallegos had little control over his muscles and body coordination.
However, that didn't stop him from fulfilling his dreams. He started running when he was in high school with the hopes of one day becoming an athlete.
The new professional athlete said:
"I wanted to take part in an after-school activity just like everyone else. And eventually, by repeating the running motion over and over, I trained my body to run."
His journey with Nike wasn't overnight; in May Nike released a video for its Breaking2 campaign featuring Gallegos and runner Eliud Kipchoge. In the same month, he collaborated with the brand to make shoes for people with disabilities called Nike Air Zoom Pegasus 35 FlyEase.
Nike has been making some inspirational moves and in September they headed up their "Just Do It" campaign with former NFL quarterback Colin Kaepernick. The athlete caught the eye of the world when he knelt down during the national anthem in the 2016 NFL season to protest racial injustice.
Nike's share price reached an all-time high after the campaign and online sales grew 31 per cent.
Please fill in your e-mail so we can share with you our top stories!