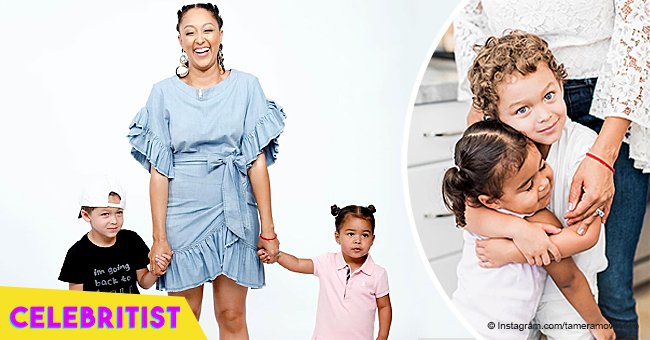 Tamera Mowry's kids make special appearance on 'The Real'

Tamera Mowry's two children showed how comfortable they are in front of the cameras in a rare appearance on their mother's show. They candidly answered questions to the delight of the show's hosts.
It was bring-your-kids-to-work day for Tamera Mowry whose two children, Aden and Ariah joined her on "The Real" recently. During the "Girl Chat" segment of the show, they delighted Tamera's co-hosts with their candid answers.
Aden, 5 and Ariah, 3, sat at the table along with their mother, Jeannie Mai, Loni Love, and Adrienne Bailon. It became an enjoyable task for them to answer questions when the hosts gave them a cup to reward them each time.
Jeannie was the first to ask the question. She asked Aden if he watched his mom's show. The boy said no as Tamera gasped in surprise. When Ariah was asked, she made a sound to say she didn't too. Aden explained he preferred to watch cartoons.
Things got cuter when Ariah was asked if she liked being on the show. While playing with a toy, the little girl whose mother once prayed for her to be brown, said "no."
When it was Loni's turn, she asked them if they liked going to school. Before Aden replied he requested to be given a cup and his sister agreed with him. Loni dug further and asked about their best friend. Aden said his name was Anthony and Ariah echoed his answer.
Jeannie touched on the subject of Halloween to find out what the kids planned to wear. While Ariah said she was going to be a "wadybug," Aden replied he was going to dress up as a knight. At that point, Tamera asked Aden,
"Who's mommy gonna be?"
He quietly responded, "a princess."
Here's the adorable interview where fans get to learn a little more about these Housley cuties.
Tamera shares her two children with her husband, Adam Housley and she doesn't intend to have more. In April, she firmly said she was "done" when she was asked by Us Weekly about having more kids. It didn't matter that her twin sister Tia just gave birth to her second child in May. For Tamera, she'll be happy to help her sister but as far as having another one of her own, that ship has sailed.
Instead, she's happy devoting her time to Aden and Ariah who often grace her Instagram account. Last month, she posted a photo of her youngest rocking a princess dress and playing football with her uncle.
Prior to that, it was Aiden who snatched hearts wearing a baseball outfit bearing the logo of the San Francisco Giants.
Tamera's heart should be more than full with these two.
Please fill in your e-mail so we can share with you our top stories!