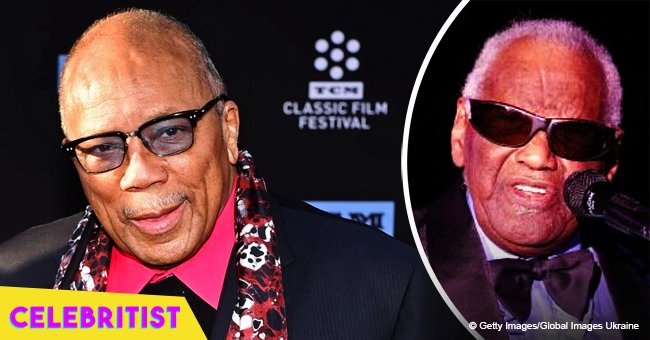 Quincy Jones claims Ray Charles introduced him to heroin at 15
While everyone is aware that Ray Charles struggled with heroin addiction, his friend Quincy Jones has now revealed it was the legendary singer who introduced him to the drug when he was only 15.
Quincy Jones recently sat down for an "Awards Chatter" podcast where, among other things, he dished about his five-month bout with heroin and Ray Charles' involvement in it. He also named human activist Malcolm X as their source.
Jones recalled hanging out with Charles in Seatlle in the 40's when he was first introduced to heroin.
"After we finished at the Washington Social Club and a couple of other ones, we'd all go down to Jackson Street to the Elks Club. That's where all the bebop jam sessions were. Nobody got paid. We didn't give a damn. When they finished playing they'd go over in the corner and they had it on their thumb. I just snuck in the line and got me a little hit."
It was that first hit, according to the legendary singer, that led to his addiction. He would eventually regularly buy from a heroin dealer known as Detroit Red in Harlem. That same person would later transform into the "Black Power" leader now popularly known as Malcolm X.
A SHORT-LIVED ADDICTION
But Jones' addiction to heroin didn't last long. After five months, he got into a fight which caused him to fall down a flight of stairs. Doctors prescribed him complete bed rest resulting to his withdrawal.
Looking back, Jones said "the mistakes are what help you grow and learn." If it wasn't for that fall, he'd still be addicted to the drug for most of his life.
"I would have been a junkie forever. Bird was always high. Thank God we did it and got it over with."
HIS STRANGE ALLEGATIONS
Jones is notorious for granting interviews and naming people with outrageous claims. In the past, he made strange allegations including dating first daughter Ivanka Trump in 2006 and accusing Michael Jackson of stealing songs. He also claimed he knew who assassinated former President John F. Kennedy, a man he named as Sam Giancana. He once said Microsoft's Paul Allen was a better guitar player than Jimi Hendrix. However, when he was asked about his friend Bill Cosby and the sexual assault allegations thrown at him, Jones refused to comment.
MOLESTATION RUMORS
Jones himself was rumored to have molested Tevin Campbell when the R&B singer was still a minor. Tevin has denied the rumor and insisted he and Jones are in good terms. He even shared a throwback photo with Oprah Winfrey who has likewise come to the defense of the legendary music producer. She credits him for her big break in the film, "The Color Purple."
Please fill in your e-mail so we can share with you our top stories!