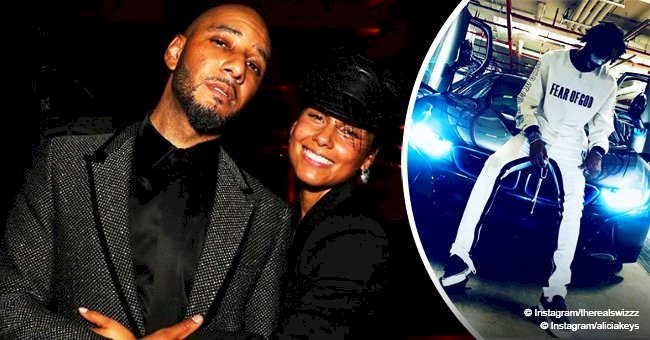 Alicia Keys' husband Swizz Beatz gifts son $148K car on 18th birthday in pics
Swizz Beats surprised his 18-year-old son with a new car worth $148,000 for his 18th birthday.
The rapper threw his son, Nasir Deen, a Halloween themed birthday party on Sunday. The bash was attended by family, friends, and celebrities like DJ Khaled.
The party itself was a massive success. Alicia Keys serenaded Nasir and had partygoers dancing.
Guests dressed up, danced and enjoyed the live entertainment. As good as the party was, it did not top the special surprise Swizz Beatz had planned for his son.
THE SURPRISE GIFT:
The doting father surprised his son with a stunning car during the party. The proud father congratulated his son for working hard and always being dedicated to his work.
Nasir loved the surprise and continuously thanked his father for his new ride. Swizz Beatz fans took to the comments section to share their admiration for how appreciative Nasir was for the gift.
"@rockwme Very appreciative. It's a beautiful yet rare thing to see. Especially from kids who are accustomed to a certain amount of wealth. Shout out to the village that helped raised this young man. A king indeed." ~ shon_lomax​​​​​​​
The brand new, black, 2019 BMW I8 cost a whopping $148,000. The car is an eye-catching piece and suits young Nasir.
In the post on his Instagram, Swizz wished his son a Happy Birthday and admired his son's work ethic.
THE FAMILY DYNAMICS:
Nasir is the oldest of Swizz Beatz, five children. His mother is Nicole Levy.
His siblings only share a father with him. Swizz has a son, Kaseem Jr, with his ex-wife Mashonda, a daughter, Nicole, with Jahna and two sons, Egypt and Genesis, with current wife, Alicia Keys.
Regardless all the siblings get along wonderfully. Proud father, Swizz often posts stunning images of his blended family.
Him and his wife, Alicia Keys, co-parent Kaseem Jr. with his ex-wife Mashonda. Mashonda detailed how they learned to co-parent in her book, Blended.
"It took two years into our blending to make it happen, but when we did it was like turning the light on." ~ Mashonda
While it may have been tough at first, the family has clearly worked through the kinks and now have a beautiful balance. Mashonda and Alicia have created a strong bond and work hard to ensure the best for the Kaseem Jr.
The situation resonates with fans who also have blended families and serves as a means for inspiration to them.
Please fill in your e-mail so we can share with you our top stories!