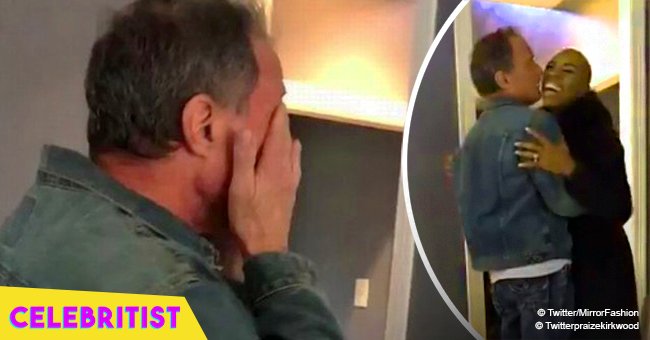 Husband's Reaction to Wife Shaving Her Dreadlocks after 20 Years Still Melts Hearts

A woman undergoes a drastic hair change after 20 years and gets the best affirmation from her husband. In a video taken by their daughter, her husband's reaction is priceless.
Over five million people viewed Praize Kirkwood's video of a sweet moment between her parents. Her mother surprised her father by chopping off her dreadlocks after 20 years of growing them.
WIFE FLOORS HUSBAND
The clip begins with Praize's father anticipating her mother's new look with his back turned to the door. As Dawne Kirkwood enters the door, her husband turns around to see her transformation. At that moment, he beams with joy seeing how stunning his wife looked with a shaved head.
"Oh wow, oh wow you are so hot. Man, that is so fine. Oh my God, you look like a Hollywood star or a recording artist. Wow, I can't believe it!"
The couple hug it out to the delight of her daughter who tweeted the video along with the caption,
"So after 20 years of growing her dreads my mom wanted to cut off her hair. She wasn't sure how my dad would react tho....but this is how he did."
There was an outpour of views and comments on Praize's post. It was a testament to how much people appreciated Dawne's new look as well as her husband's sweet reaction to it.
BEFORE SHE SHAVED HER HAIR
In response to those wondering what Dawne's hair looked like before she shaved it off, Praize posted a few photos too.
THE AFTERMATH OF A SHAVED HEAD
The massive response to her new look also prompted Dawne to create her own Twitter account and share photos of her fabulous do. Her confidence has become an inspiration.
"I am not my hair. #freedom #bigchop #guiltfree," she wrote.
CELEBRITIES WHO FASHIONED A SHAVED HEAD
It's unclear why Dawne decided to shave her hair after 20 years but she looks great. She now joins the ranks of other celebrities who've famously rocked a shaved head including Lupita Nyong'o, Natalie Portman, Demi Moore, and Grace Jones. Earlier this year, Tamar Braxton began sporting the look saying she was tired of wearing wigs and weaves and just wanted to feel free.
WEIGHT ON HER SHOULDERS
The singer has been subject to a lot of negativity for quite some time now. For one thing, she's in the middle of her divorce from Vince Herbert who's been unresponsive in court. Recent events also shed more light on why she was fired from "The Real." Her former co-hosts spoke up and revealed their surprise upon learning that Tamar blamed them for her departure from the talk show. Moreover, Tamar confessed on "The Wendy Williams Show" that she was molested by family members when she was a child.
With so much on her shoulders, a little weight off her hair must be a source of comfort for Tamar who looks great in her shaved do, by the way.
Please fill in your e-mail so we can share with you our top stories!