Gabrielle Union melts hearts with picture of her baby daughter, revealing she smells like 'heaven'
Gabrielle Union celebrates the heavenly scent of her newborn as she fends off bashers while basking in motherhood bliss.
Gabrielle Union is in cloud nine. The 46-year-old just welcomed her first child and she's relishing every moment with her daughter. In a brand new photo, she cradles her little girl in her arms and delights in her heavenly scent.
THE BIRTH OF A MIRACLE
Gabrielle has every reason to bask in motherhood bliss. It's been a long journey leading to this moment. She suffered fertility issues in the past which led to multiple miscarriages and failed IVF attempts. After years of failure trying to conceive, she and her husband, Dwyane Wade finally decided to hire a surrogate. On November 7, they welcomed their daughter and declared it a "lovely day."
To announce the birth of their child, the couple quoted lyrics from the song "Lovely Day" and shared photos of their family from the hospital.
"We are sleepless and delirious but so excited to share that our miracle baby arrived last night via surrogate," they wrote.
"11/7 will forever be etched in our hearts as the most loveliest of all the lovely days."
STINKING BUT HAPPY 
Since her daughter's birth, Gabrielle has been settling into motherhood and sharing updates about her new life. The new mom confessed in an Instagram Story that she hasn't slept, showered or brushed her teeth "but I'm in heaven," she says.
"I stink but I'm happy," the actress adds.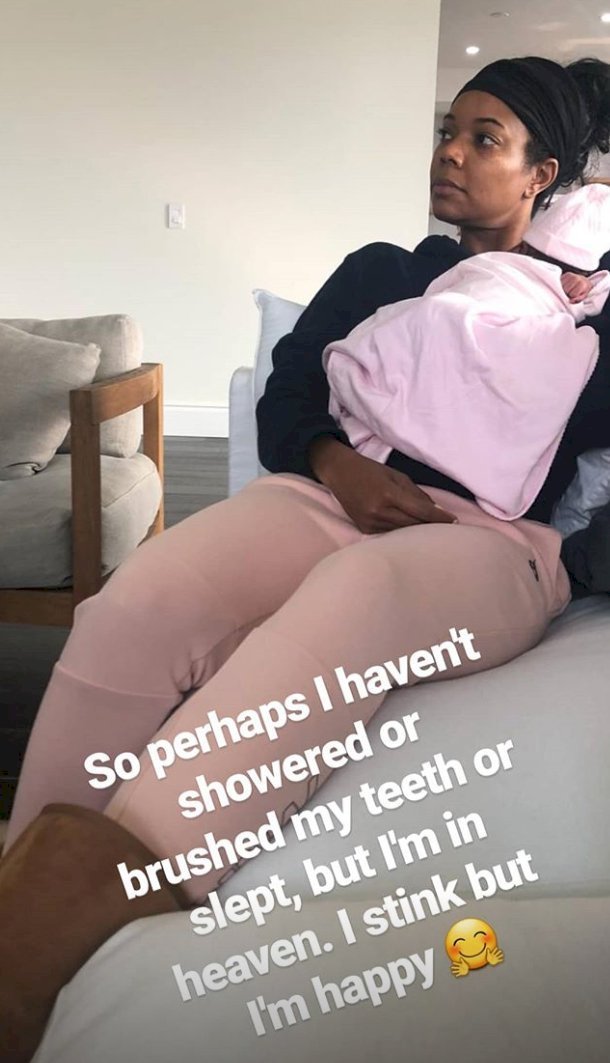 THE SCENT OF HEAVEN
Fans though weren't too happy hearing about her lack of hygiene and slammed her for it. They questioned why she couldn't afford to take care of herself considering her daughter was born via surrogate.
Instead of allowing the haters to rain on her parade, Gabrielle chose the high road and responded with a sweet post. She shared a photo where she's cuddling her baby and kissing her on the forehead. She delights in her sweet smell and writes,
"…this baby smell though?! Heaven"
The moment couldn't be any more perfect until her husband chimed in on her comments section and wrote, "My loves."
DADDY'S GIRL
Gabrielle shares her joy with Dwyane who welcomes a daughter for the first time. The former NBA star has three sons from previous relationships which makes the birth of his newborn even more special. Gabrielle suspects their daughter will be "daddy's girl." She said this much in a recent post where she shared a heartwarming photo of a shirtless Dwyane feeding a bottle to their child.
Gabrielle and Dwyane are certainly relishing every moment of their new life. Their four-year marriage has been blessed with a miracle baby. Heaven is truly in their midst.