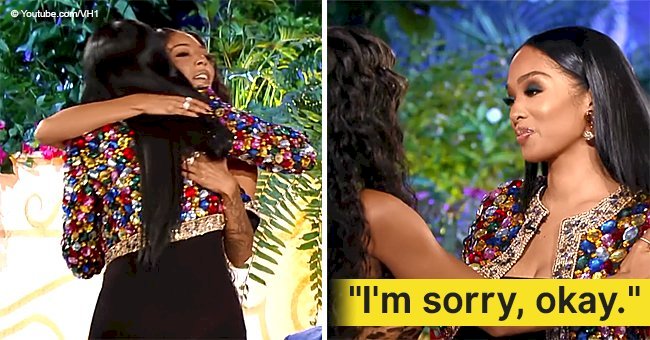 Sworn enemies Princess Love & Moniece hug it out and bury the hatchet at 'L&HH' reunion
Fans of "Love & Hip Hop: Hollywood" were left stunned after feuding co-stars, Moniece Slaughter and Ray J's wife, Princess Love settled their long-standing bad blood. Scroll down for the video.
The VH1 reality series concluded its 5th season on Tuesday, and the highlight of the reunion was Moniece and Princess putting aside all their quarrels to hug it out on air.
Anyone who watches the show knows there's no love lost between the two women. Their explosive history includes Moniece attempting to fling a chair at a then-pregnant Princess, to Princess questioning the former's parenting skills. There was also the time Moniece alleged that Ray J's sister, Brandy, was a surrogate for the latter's then-unborn child.
Their issues were seemingly aggravated after Princess said in an interview:
"I can't go to sleep without thinking about beating your [expletive]... Be ready, [expletive], 'cause I'm coming for you, [expletive]!"
Basically, the two fit the description "sworn enemies," but at the "Love & Hip Hop: Hollywood" reunion special, it was an unbelievable turnaround as they were civil and apologized to each other.
"To have no regard for an unborn life is not normal, and I recognize that." Moniece admitted. It was even more surprising when Princess, who has since welcomed a daughter, said "I do accept her apology" and added:
"I do wanna apologize for saying something about your son. I know that's what you've always wanted from me, but with the back and forth, I felt like I didn't owe you that because of how you've always came at me. You did throw the drink at me first and that's why I talked about your motherhood, but I do apologize. I'm a mother and I get it."
So rocky was their past that security sprang into action when Princess approached Moniece for a hug. The hefty men were probably thinking of the time the two women got into a huge fight.
Princess and Moniece traded some harsh words before throwing everything from bottles to cake at each other. The fight was aired on the season finale and saw security having to hold back both women before things turned bloody.
In an earlier episode of "L&HH," Moniece revealed that their feud began after she addressed Ray J as "Raymond" and Princess took offense.
It appears to be the season of ending feuds for Princess. She's been at loggerheads with her mother-in-law, Sonja Norwood, and her sister-in-law, singer Brandy, but recently, all seem to be well again.
As the saying goes, nobody wins when everybody feuds.
Please fill in your e-mail so we can share with you our top stories!