Gabrielle Union melts hearts with picture of her baby daughter, revealing she smells like 'heaven'
Gabrielle Union is in cloud nine after the birth of her "miracle baby."  The star recently shared with fans her love for the "heavenly" scent of her baby girl, Kaavia, after being criticized for "lack of hygiene."
Gabrielle Union and Dwayne Wade welcomed their first daughter just three weeks ago, and both are still relishing every moment with the adorable tot.
Even though baby Kaavia came to the world through a surrogate, Union has been going through the perks of motherhood like any other mom.
STINKING BUT HAPPY
The fact that she doesn't have that much time for herself doesn't seem to be bothering her, as she revealed on an Instagram story.
"So perhaps I haven't showered or brushed my teeth or slept, but I'm in heaven. I stink but I'm happy," she wrote over a pic where she appears on a sofa with her daughter sound asleep on her chest. Some fans, of course, didn't found Gabrielle's comment about her lack of hygiene cute at all.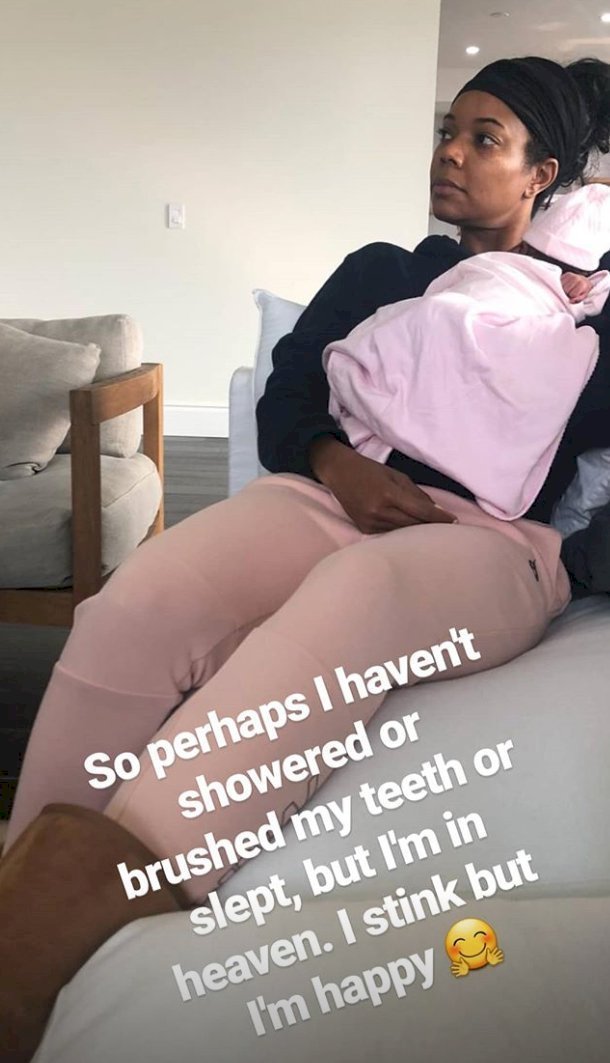 They immediately took to social media to slam her, questioning why she couldn't afford to take care of herself considering her daughter was born via surrogate.
The "Being Mary Jane" star took the high road, choosing to ignore the snarky remarks and instead of answering with a photo where she's cuddling her baby and kissing her on the forehead. She delights in her sweet smell and writes,
"…this baby smell though?! Heaven."
Wade chimed in on her comments section and wrote, "My loves."
TOO MUCH AFFECTION FOR A NEWBORN
Union is not the only one being bashed by know-it-alls on social media. After she shared an adorable pic of her husband kissing their daughter in the mouth, Dwyane Wade is getting lots of critics on why is dangerous to kiss newborns on the mouth.
While some haters have been rude about the situation, others have taken their time to calmly try and explain to both Union and Wade the risks they're making.
"Cute, but he really shouldn't be kissing her on the mouth. Don't kiss newborns on the mouth! That's how you spread diseases, and their little immune systems can't fight off that bacteria," wrote one user
According to GP Dr. Sarah Jarvis, studies have proven that kissing a baby on the mouth can trigger infections that can cause seizures, breathing problems, and even death in the most extreme cases, as reported by The Sun.
"If a mum has a cold sore and kisses her baby, it's possible she could pass the virus to her baby. And theoretically breastfeeding is a risk too," explained Jarvis as an example, adding that in babies, the infection is known as neonatal herpes, and is caused by the herpes simplex virus.
THE BIRTH OF A MIRACLE
After waiting so long to be a mom, is reasonable for many fans to be worried about Gabrielle's daughter and the risks she could be taking. And even though is not their places to meddle in other people's lives, some of them might have good intentions.
Meanwhile, Gabrielle has every reason to bask in motherhood bliss.
She suffered fertility issues in the past which led to multiple miscarriages and failed IVF attempts. After years of failure trying to conceive, she and Wade finally decided to hire a surrogate months ago but kept it a secret from the world.
On November 7, they welcomed their daughter Kaavia James, and declared it a "lovely day."
The couple quoted lyrics from the song "Lovely Day" to announce the baby's arrival and shared photos of their family from the hospital.
"We are sleepless and delirious but so excited to share that our miracle baby arrived last night via surrogate," they wrote. "11/7 will forever be etched in our hearts as the most loveliest of all the lovely days."
ALREADY A STAR ON THE MAKING
With only 3-weeks in the world, Kaavia James is already a star like her famous parents.
The baby girl will make her debut on TV in a special program for Oprah's OWN, and her Instagram account already has over 261k followers.
She's also getting gifts from famous aunties and uncles, like Taraji P. Henson, who recently send Union a cute kit of autumn themed clothes for Kaavia.
The girl is set to become the princess of her household since her NBA star father has three sons from previous relationships that will act as bodyguards with her in the future.
Gabrielle suspects their daughter will be "daddy's girl." She said this much in a recent post where she shared a heartwarming photo of a shirtless Dwyane feeding a bottle to their child.