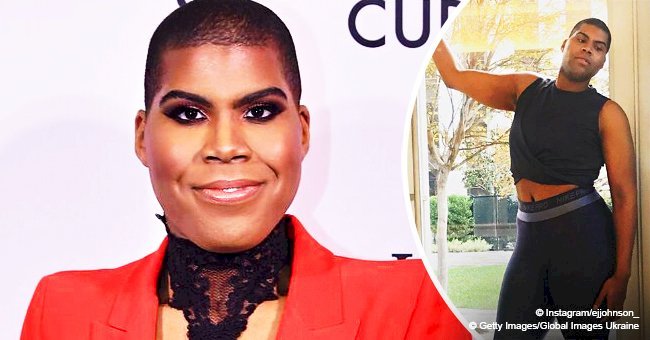 EJ Johnson praised for showing off his snatched body in black top & leggings in new photos
EJ Johnson took to Instagram to flaunt his figure in yet another stylish outfit, and the internet is loving every bit of it.
The TV personality showed off his midriff in a layered black top and showed off his toned thighs in a pair of Nike leggings. He also wore black cut-out socks to complete the laid-back feel of the entire post.
Still wearing the same outfit, EJ pulled against the door railing in a second picture, plus, it wouldn't be EJ without a fierce diva pose, right?
His fans showed up in the comments section to rave over his enviable physique and general appearance.
"I wish I had just a tiny bit fraction of your level of confidence."
"When your brows are fiercely popping even with no makeup. EJ u know what, come out with your own makeup line. Ok stop playing!"
"Waist is SNATCHED!"
"You're vulnerability is so inspiring. You have come a long way and the glow up is all too real. Thank you for being a pioneer and a face of diversity in a world that turns their back on people like us. Thank you for being bold and embracing what comes naturally to you. It really makes a difference, even if it only one person sees you and feels accepted for who they are, YOU made that difference. Thank you."
WEIGHT LOSS SURGERY
EJ, the son of basketball legend, Magic Johnson, has been showing off his new body since he underwent gastric sleeve surgery in August 2014. The 26-year-old shrunk to almost half his previous weight of around 360 pounds and looked better than ever.
In a 2015 clip of the now-canceled "Rich Kids Of Beverly Hills," EJ said the surgery was the best thing that ever happened to him, adding that:
"I never thought that I'd look this good, and that is the God's honest truth."
The "Teen Mom: After Show" host, who continues to dismiss rumors of a gender transition, also said his new body gets him more attention from men.
DOWNSIDES OF DADDY'S FAME
Unfortunately, it appears not all that attention was for EJ, as he confessed earlier this year on Jada Pinkett-Smith's "Red Table Talk" show.
"It's always been a struggle. There's so many factors. First of all, the celebrity thing — who are you here for, are you dating me or are you trying to date my dad? These men either just want to be there for one thing and then don't want to stay for the real relationship part, or they just want to ride the wave and be bougie and go out and have their picture taken and do all of that."
But as this recent picture proves, nothing can stop EJ's fabulousness. The son of Magic and Cookie Johnson will probably continue to strut his stuff until Mr. Right comes along, and why not, he's got all it takes!
Please fill in your e-mail so we can share with you our top stories!