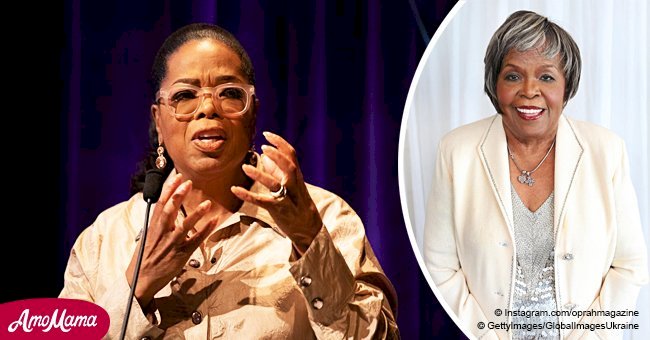 Oprah reveals the emotional conversation with her late mother before saying her last goodbye
Oprah Winfrey spoke of acceptance, love and the need for closure during the days that led up to her mother's passing on Thanksgiving Day.
Oprah was preparing to attend Michelle Obama's 'Becoming' book launch in Chicago when she got a call for her sister Patricia. Their mother was dying.
As Oprah spent most of her 83-year-old mother's last days with her, she found herself searching, she needed to close the last chapter in the book, but she didn't know how to say what needed to be said.
Read more on our Twitter account @amomama_usa.
Say the things you need to say while you can; it has the power to bring peace, to enable us to let go of things holding us back.
Reorganizing her schedule, Oprah got onto a plane to Milwaukee to surprise her mother. After attending the launch the next day, Oprah returned to her mum Lee, sat down next to her and asked:
"I don't know if you're going to make it. Do you think you're going to make it?"
When Lee responded with, "I don't think I am," it was not altogether surprising as Oprah and sister Patricia knew she was dying. Lee and Oprah had deep conversations about how it felt like for Lee to be near the end. Oprah knew the time was coming, and reached out to the people that cared about her, urging them to say their last goodbyes if they wished.
Booked to fly to Boston for a speaking engagement Oprah stood in the doorway and said "Goodbye" as she looked at her mother and thought:
"I knew it was going to be the last time we said goodbye, although I didn't say to her."
After the talk in Lowell, Boston, Oprah got snowed in and was set to be in California the following day for meetings. She decided to cancel them and headed back to her mother's home in Milwaukee and elaborated:
"I felt like I had not closed it. I felt like I knew it was the end, but I wanted to make sure she knew it was the end, and that I said everything I wanted to say. I waited for a way to say what I wanted to say. I couldn't find it that day."
After waking up the next day Oprah prayed for answers to difficult questions:
"What is a way I can have this conversation about the end? How do I close it? I just thought, What is the truth for me? What is it that I need to say?"
The answer to her questions and the way in came when she walked into her mother's room as Oprah recalled:
"I just walked in with my iPhone, and a voice said, 'Play some music.' Mahalia Jackson popped up on my Apple iTunes. I thought, 'Oh, that's good. Mahalia Jackson, Precious Lord.'"
In true Oprah fashion, she came up with an endearing idea and said:
"Wintley Phipps (Gospel singer) is a really great friend of mine. I thought, 'What if I called Wintley and got him to sing 'Precious Lord' to her?' I called Wintley and asked him to FaceTime. He sang 'Precious Lord' live to her from his kitchen table."
The music made mum Lee more open, receptive and gave Oprah the opportunity she had been searching for, to say what needed to be said:
"What I said was, 'Thank you. Thank you, because I know it's been hard for you. It was hard for you as a young girl having a baby, in Mississippi. No education. No training. No skills. Seventeen, you get pregnant with this baby. Lots of people would have told you to give that baby away. Lots of people would've told you to abort that baby. You didn't do that. I know that was hard. I want you to know that no matter what, I know that you always did the best you knew how to do. And look how it turned out.'"
Oprah wanted peace for her mother and assured her of her unconditional support. Patricia then entered the room, with the same intent, to say the things she needed to. Patricia is the daughter that Lee gave up for adoption in 1963 as she told her mother:
"Please forgive yourself, because I've forgiven you for giving me away."
A sacred moment between mother and daughters, as both helped lift burdens that may have held Lee back, but it goes both ways. Say the things you need to say while you can; it has the power to bring peace, to enable us to let go of things holding us back. As Oprah said:
"This is the beauty of my life. There's not a thing that happens to me, that I don't look at it as a teaching, learning, experience."
Alisha, Lee's granddaughter, was the first to reveal the news on social media as she posted two photos with Lee, according to the Daily Mail with the caption:
"My grandmother, Rest In Peace. I lost my beautiful grandma on Thanksgiving. She was the number one supporter of Pat's [Alisha's restaurant] and was the person who named our restaurant. We will miss her and will carry on her legacy of good eating! We love you, Vernita Lee!"
Representatives of Oprah later stated that Lee had passed away at her home on Thanksgiving Day. A private funeral service has been held, and the family asked people to make memorial donations in Lee's name to Feeding America.
With Oprah having changed and inspired the lives of many over the years, Nashville councilwoman, Sharon Hurt proposed that Barry Field Nashville International Airport's name is changed to Oprah G. Winfrey Nashville International Airport.
Oprah attended high school and college in Nashville, and although the suggestion comes with good intent a snag in the law states that building, facilities or streets can only be named after people who have been deceased for at least two years.
Please fill in your e-mail so we can share with you our top stories!