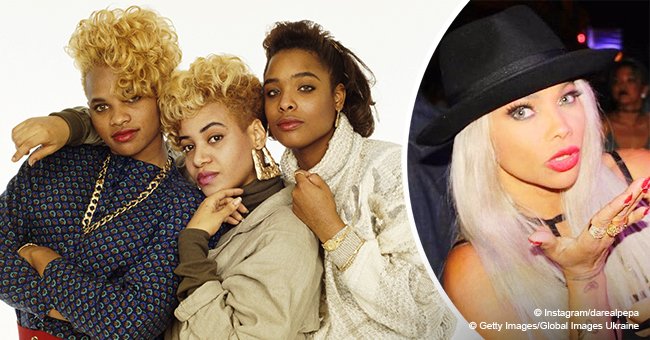 Remember Pepa from 'Salt-N-Pepa'? She just got slammed for alleged plastic surgery in new photos

Sandra Jacqueline Denton, best known as Pepa from the rap group Salt-N-Pepa, has been receiving backlash over her alleged plastic surgeries.
In October this year, the rapper uploaded a slideshow from the Chateau Nightclub in Las Vegas wearing a beautiful black outfit, blonde wig, and blue contact lenses. Even though she looked beautiful, some people didn't like it.
One of them wondered why she looked like a white woman if she was a "beautiful black queen." Others admitted to feeling bad for her because, being black, all those features made her look "strange."
Later, in November, Pepa uploaded a video showing her wearing a black and white ensemble while walking through a hall. At some point, she turned around, showing her derriere. People also took to the comment section to complain about it.
"Pep i love you! But you gotta take those implants out!!! First its to big for your body and they didnt contour it to your body! Jesus [sic}," wrote one user.
"I love you pep but them buttocks gotta go girl. At least make it look natural it's too much in there [sic]," pointed out a second one.
That was not the first time that Pepa's followers share negative comments on her derriere. Back in August, she uploaded a short clip walking with the camera behind her, and people's rude comments quickly filled the comment's section.
"Omg... Can you say diaper booty.. You need your money back [sic]," said one follower.
"Don't need that Pep, you are beautiful without it. Always have been!" shared another one.
Earlier this year, Pepa was involved in some rumors that she was dating Aundre Dean, an aspiring actor and rapper who is married to Jordyn Taylor, a TV host turned teacher. Jordyn took to social media to slam both Aundre and Pepa.
Jordyn uploaded a now-deleted screenshot in which Pepa wrote, "Happy Birthday weekend to my man and #MCM @iamAundre keep pushing and being a good dad God will handle the rest. No matter what, I'm here! #RideOrDie #PepItUp #Mcm."
In the caption, Jordyn accused Aundre of infidelity and called Pepa a "mistress" and "D list 'has been.'" The man later said that those allegations were false and that he felt saddened by the accusations.
Please fill in your e-mail so we can share with you our top stories!