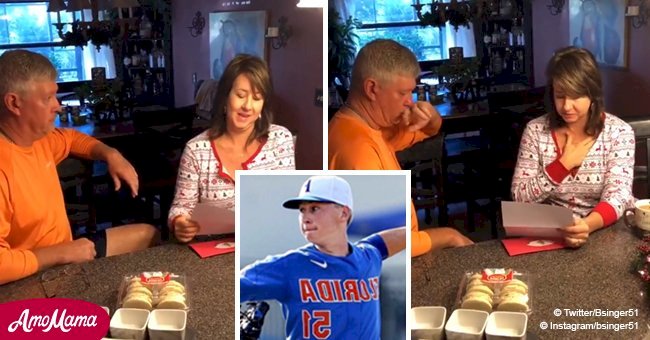 Kansas City Royals' player, 22, pays his family's debt for Christmas with a touching letter

The year is rounding up and for Brady Singer's parents; it did with a pleasant surprise. The Kansas City Royals Organization pitcher posted a video on his Twitter account; it shows his parents diligently reading a letter he sent them for Christmas.
Brady, in a heartfelt letter, showered his parents with praises and love; thanked them for the tremendous support they gave him while he built his baseball dream through the years.
The clip showed his parents sitted at the dining table. The mum read the letter aloud while the father listened attentively with pride — the message speaks about his mom and dad's dedication to him and his sibling, all the sacrifices they had to make for them over the years because they wanted only the best for them.
Some parents are known to go the extra mile when it involves fulfilling their children's dreams. A mother once embarrased her son at his baseball game with her dance moves; she couldn't hold her excitement at the boy's performance.
"You both always wanted me to have the best stuff to help me pursue my dreams. The money you both spent on traveling, gear, hotel, food, and all those Gatorades I drank is so much more than I could ever give you" at this point his mum paused and choked on her emotions as she continued reading the letters in tears and pleasant surprise; But there is something I want to give you. I am paying off the loan from the bank and I've paid off all the debt as well." - Brady Singer
The newly signed baseball player further wrote that now his folks can stop saving money into the savings account they drained on him; instead, spend the money on themselves.
"Because you deserve the very best. I want you both to know how much I appreciate you and how none of this would be possible without you...your giving hearts helped to shape my tiny dream into a reality." - Singer wrote.
Singer has been on the rise this year; he was awarded the Dick Howser Trophy as "College Baseball Player of the Year."
He got signed to Kansas City Royals and received a massive signing bonus of $4.25million from the team. The officials were overly excited to have Singer join the team; they believe he's what the people of Kansas City would love to come to Ballpark to see.
The young star posted a picture of his new signing; he stated that his dreams came true and he's super happy to be part of the Royals.
With all his recent success and stardom, Brady remained humble and grateful; shared several posts where he appreciated his parents on social media.
His Christmas letter and paying off their debt is just one of the many ways he has shown his gratitude towards them.
Some fans reacted to his Christmas letter, praising the young man's actions. Most commended him on what he did for his parents. Congrats to the young player, his rise has just begun.
Follow us on our Twitter account @amomama_usa to learn more.
Please fill in your e-mail so we can share with you our top stories!