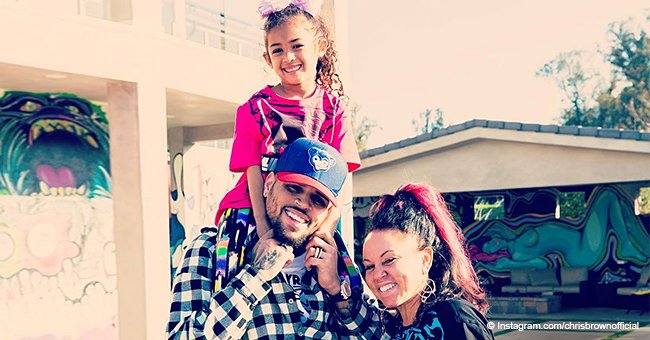 Chris Brown shares photo of his mom and daughter before posting response video to rape allegation

Chris Brown recently shared a photo of the two most important women in his life, and a few hours later, the singer once again addressed his recent rape allegations.
Brown, 29, took to Instagram with a photo of his mom and daughter, who he refers to in the caption as:
"MOST IMPORTANT WOMEN IN MY LIFE!"
The picture shows the "Don't Wake Me Up" singer balancing his four-year-old daughter, Royalty, on his shoulders and posing with his mother, Joyce Hawkins.
SHARING HIS SIDE OF THE STORY
Not too long after, Brown posted a video in which he spoke about the accusations of rape brought against him in France some days back.
The Instagram clip features his 2012 track "Stuck On Stupid" and contains footage from his France trip. A car crash sound effect then segued into a voice-over of Brown addressing the allegations.
"My mom and grandma always said, 'The Lord can give you a gift, and he can take it away," he began, adding:
"I feel like I don't have to explain any [expletive] or any lie that somebody has been perpetrating or portraying me as. So, you know, for me it's like, all right, cool. I came out here to do a job, and that's what I did. We gonn' shoot this [expletive] video."
THE ARREST
News of Brown's arrest in Paris made headlines about a week ago. A 24-year-old unnamed woman accused the singer, his bodyguard, and a friend, of raping her in the early hours of January 16.
Brown along with two other persons, were then detained on Monday, January 21, on "potential charges of aggravated rape and drug infractions."
The accuser, who is a student and an occasional actor/model, claimed she was assaulted while hanging out with Brown and his entourage in his suite at the Mandarin Oriental hotel.
"It's still too difficult for me to explain in detail what he did, but it was brutal and violent," she previously told French magazine, "Closer."
FIRST REACTION
Eventually, Brown and the other two men were released without bail in the next 24 hours and allowed to leave France even though investigations are still ongoing.
Following his release, the "Kiss Kiss" singer reacted to the news in a since-deleted Instagram post. He insisted that the accuser was "lyin'" and added in all-caps:
"I WANNA MAKE IT PERFECTLY CLEAR...... THIS IS FALSE AND A WHOLE LOT OF CAP! NNNNNNNNEEEEEEEEEEVVVVVVVVVVEEEEEERRRRRR!!!!!! FOR MY DAUGHTER AND MY FAMILY THIS IS SO DISPRESPECTFUL AND IS AGAINST MY CHARACTER AND MORALS!!!!!"
Please fill in your e-mail so we can share with you our top stories!