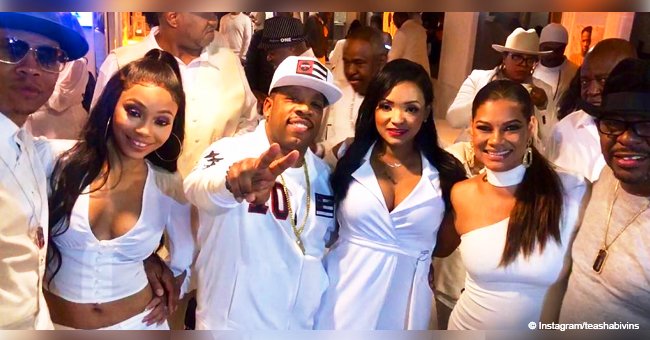 New Edition members and their wives celebrate Bobby Brown's 50th birthday in style

Former New Edition members and their wives got together to celebrate Bobby Brown's 50th birthday in a luxurious vacation together.
After their stint as one of the biggest R&B groups of all-time, childhood friends Ronnie, Bobby, Rickie, and Mike have proven that their friendship is bound to last a lifetime after they planned an exciting trip with their wives to celebrate Bobby Brown's 50th birthday.
Michael Bivins, Ronnie DeVoe, and Ricky Bell along with their wives boarded a luxury yacht to celebrate their bandmate's birthday. Of course, the birthday celebrant made sure to bring his lovely wife and manager Alicia Etheridge-Brown to the celebration as well.
Like any exciting birthday bash, Bobby's came with a theme - an all-white affair that took place in one of Los Angeles' harbors.
The lovely group of friends shared bits and pieces of the star-studded affair that kept them busy the entire day. "Real Housewives of Atlanta" star Shamari DeVoe was one of the first to share a photo with her husband Ronnie, whom she has been married to for 13 years now. The reality TV star also proved that her connection to New Edition goes beyond just her husband, posting photos with her fellow wives who have also become her life-long friends.
"From left to right, it's #BellBivDeVoe"
With each of the New Edition members being married to their partners for quite a while, it's not new for them to go on quadruple dates. This birthday celebration is just another one of their many hangouts, which proves that their friendship really knows no bounds.
Although the band discontinued New Edition, they are set to tour the country this year under their new name "RBRM." Everybody knows who they are, so the group decided not to come up with a fancy brand name, and instead stick to the first letter of their names in this new venture of theirs.
2019 is looking good for RBRM, and with all their plans coming up, we are 100% sure they're ready to make a comeback in the music scene.
Please fill in your e-mail so we can share with you our top stories!