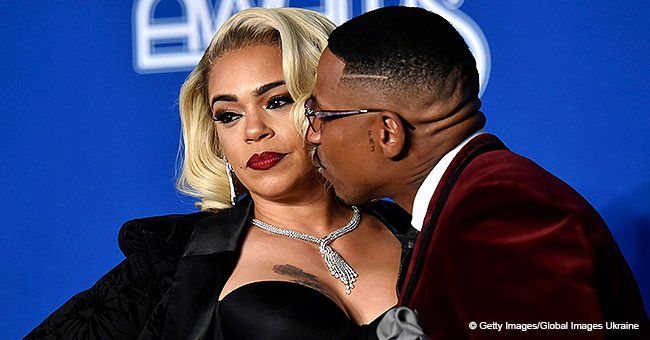 Stevie J and Faith Evans reveal they are working on 'an addition' to their family

Faith Evans reveals she and husband Stevie J have plans of growing their family as Stevie admits he's "putting in more work" lately.
Husband and wife Stevie J and Faith Evans have a few projects up their sleeves and one of them involves having a baby. This bit of information was divulged by Faith during their appearance at the 2019 Pre-Grammy Gala at the Beverly Hilton Hotel on Saturday.
Faith opened up about their little project when she enumerated the things she and her husband have been busy with lately.
"We're working on finishing up our EP, doing a few TV projects, producing a few TV projects and if [Stevie] had his way working on an addition to our family."
The eight-time Grammy nominee and one-time winner smiled before adding an important bit about their plans. They're hoping for "twins."
Stevie had a revelation of his own when People caught up with him that night. It had something to do with the work he he's putting in to make that little project of theirs come to life.
The music producer suggested he had "to put in more work" in the bedroom.
"I upped it from three to five times a day," he said.
"I knew he was going to go there with it," Faith interjects. "I already knew."
Faith and Stevie wed in July in their Las Vegas hotel room. Their marriage came as a surprise though they've known each other for decades. Faith was still married to her late husband, Notorious B.I.G. when she met Stevie 25 years ago.
"We was like family and then as years progressed, we just began to hang out more [and] talk more," the one-time Grammy winner said in December 2016 when he confirmed their relationship in "The Breakfast Club."
The pair parted ways in 2017 but reignited their romance shortly after. Faith is Stevie's first wife though he was previously linked to Joseline Hernandez with whom he has a daughter. Hernandez was surprised herself when she heard the news of Stevie's marriage to Faith. She revealed he had just proposed marriage to her too a month before.
Meanwhile, Faith has been married twice. Her second marriage was with Todd Russaw. They divorced in 2011. Faith and Stevie have 10 children combined from their previous relationships.
Please fill in your e-mail so we can share with you our top stories!