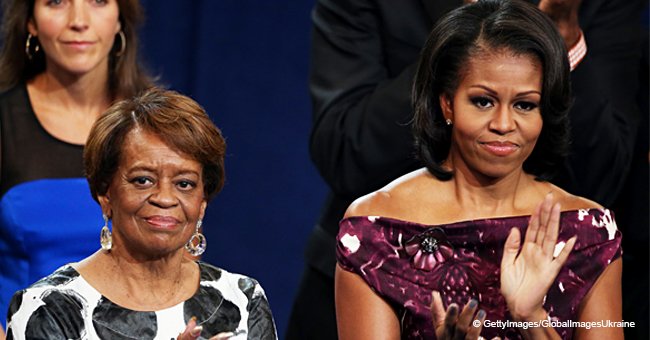 Michelle Obama's mother doesn't believe she is a 'real star' in hilarious conversation

Michelle Obama may have recently received the title of the most admired woman in the world, but in a text exchange Michelle shared between herself and her mum, she asked if Michelle met any "real stars" on Grammy night.
As the 61st Annual Grammy Awards ceremony kicked off on Sunday, Michelle Obama made a surprise appearance alongside Jada Pinkett-Smith, Jennifer Lopez, Lady Gaga, and the host for the evening, Alicia Keys.
Together, the five women delivered messages of women empowerment and shared what music meant to them. Michelle received a standing ovation for her words of inspiration.
Unfazed by Michelle's popularity, her mother, Marian Robinson had a hilarious text exchange with Michelle the following day, as Michelle shared the conversation with the caption:
"When your mom doesn't think you're a 'real' celebrity... Tonight in Phoenix, I shared this text thread from my mom from #Grammys night, and I just had to share it with all of you. #TextsFromMom."
Many fans found the exchange relateable as the comments streamed in, as one follower said:
"That is hilarious. Love our moms!"
One fan sang Michelle's praises and wrote:
"You are more than a star ⭐️, you are an icon. The epitome of grace, beauty, & elegance but also so "down to earth." Reading your book is like a friend telling you a story & I love that about you @michelleobama There will never be another FLOTUS like you ❤️"
Another fan saw mum Marian's words in another light and commented:
"Nothing like mom to slide you a slice of humble pie! BUT respectfully... Miss Marion betta give you your propers!"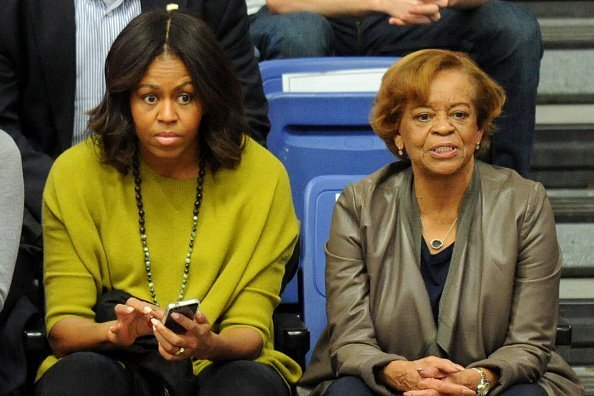 Michelle Obama and Marian Robinson at Bender Arena on November 23, 2014, in Washington, DC.| Photo: Getty Images
Michelle's words during the
Grammy's
, apart from her appearance, surprised both the audience and fans worldwide, but found resonance with her message as she
said
:
"From the Motown records I wore out on the South Side to the 'who run the world' songs that fueled me through this last decade, music has always helped me tell my story. I know that's true for everybody here, whether we like country or rap or rock, music helps us share ourselves, our dignity, our sorrows, our hopes, and joys. It allows us to hear one another, to invite one another in. Music shows us that all of it matters, every story, every voice, every note, in every song."
The audience erupted in cheers and gave Michelle a standing ovation, and remains one of the most talked about moments of the evening.
However, Michelle never let her fame and influence go to her head, as she said during a visit to the Elizabeth Garrett Anderson School in Islington in December.
As part of her promotional tour for her memoir, "Becoming" Michelle spoke to 300 students and admitted she sometimes felt like she suffers from "imposter syndrome," and elaborated:
"It doesn't go away, that feeling that you shouldn't take me that seriously. What do I know? I share that with you because we all have doubts in our abilities, about our power and what that power is. If I'm giving people hope, then that is a responsibility, so I have to make sure that I am accountable."
Michelle's memoir became the best selling book of 2018 and sold over 1.4 million copies within its first week of release.
Please fill in your e-mail so we can share with you our top stories!