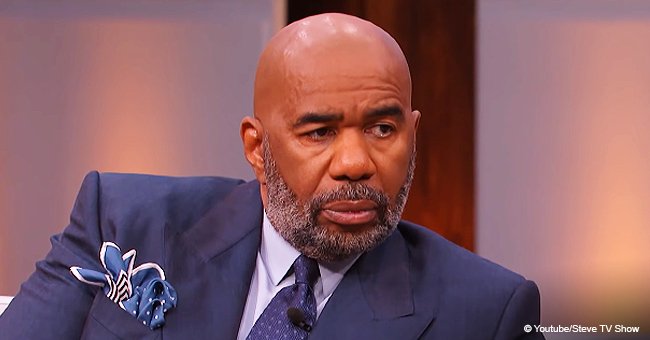 Steve Harvey says Kristoff St. John was 'laughing' & 'telling jokes' on final 'Steve' appearance

Only two months before his death, Kristoff St. John was on Steve Harvey's daytime talk show "Steve" and according to the Tv host, he was in high spirits and showed no signs of distress. One of his co-stars, however, seems to know more about the Kristoff no one saw on camera.
The late actor filmed a segment on Steve's show last December which will be aired on Friday in a tribute episode, reports PEOPLE.
In the said episode, Steve looks back on Kristoff's appearance and recalls:
"He was real cool, we were all laughing. He was telling jokes on the side. There was no indication that anything was wrong."
REFLECTIONS ON KRISTOFF
The talk show host was joined by two of Kristoff's "The Young and The Restless" co-stars, Victoria Rowell and Doug Davidson, who couldn't help reminiscing on what a phenomenal man he was.
"He was just so full of love. That would be the most powerful thing that I will remember about him," said Doug. "In any circumstance, if you were in trouble or were having trouble dealing with anything he was always very supportive. He would be there for you."
Victoria, who described Kristoff as a family man, also pointed out that he had personal struggles, referring to the tragic suicide of Kristoff's son, Julian, in 2014.
Victoria added:
"Kristoff was dealing with his own internal grief. Kristoff was beautiful, joyous — but he was complex."
A DEADLY KIND OF GRIEF
Kristoff never really got over the death of his son, who had mental illness throughout his life. Julian was only 24 at the time of his death.
Three years later, around the anniversary of Julian's suicide, Kristoff was placed on suicide watch after threatening to kill himself but was released after 72 hours of close monitoring.
On February 3, the actor was found dead at his Woodland Hills home around 2:05 pm on Sunday. He was aged 52.
A CONSTANT THEME
The police are investigating Kristoff's death as a suspected alcohol overdose, but multiple statements from his friends and family point to grief over the passing of his son.
Eric Braeden, another of the late actor's co-stars, revealed that Kristoff was "deeply wounded" by Julian's death:
"[Kristoff] carried so many things in his heart and soul, especially after the terrible death of his son. I don't think he ever got over it, and I don't think he ever fully dealt with it. He tried to. Publicly he had a good demeanor and a good life. But I think the pain was deep: very, very deep. And I think it was too much to live with."
The actor's ex-wife and Julian's mother, Mia St. John, had also lashed out in a now-deleted tweet, blaming the hospital under whose care their son committed suicide, for Kristoff's death.
TWEETING HIS PAIN
Even more revealing is the fact that, two weeks before his death, Kristoff tweeted in response to another tweet about dealing with the grief that comes from losing a child.
"It [Grieving] begins on the day your child passes and ends the day the parent joins them," the tweet read, and Kristoff responded:
"Never a truer word was [spoken]. Thanks for posting this."
The late actor, known mostly for playing Neil Winters on "The Young and The Restless" is survived by his daughters, Paris (with Mia) and Lola (with his second ex-wife, Allana Nadal); and his fiancée, Kseniya Mikhaleva.
Kristoff will reportedly be buried next to his son's grave at a yet-undisclosed date.
The National Suicide Prevention Lifeline is 1-800-273-8255. Other international suicide helplines can be found at befrienders.org.
Please fill in your e-mail so we can share with you our top stories!