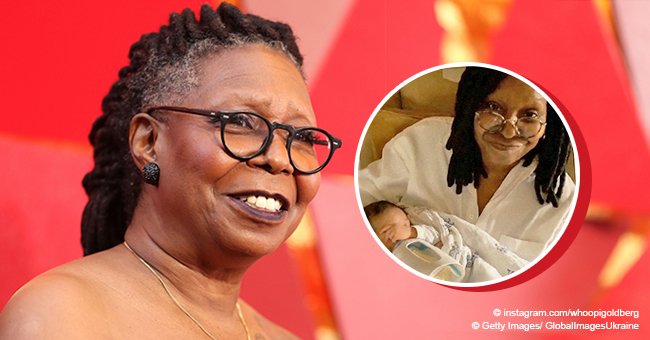 Whoopi Goldberg's great-granddaughter grows by leaps and bounds, and she's the epitome of cuteness

The Hollywood star is already a great-grandmother at 63, and she couldn't be happier about it, and seeing pictures of the cute girl in social media makes it easy to relate to her being in the clouds for the 4-year-old.
Time flies, as we all know it. But every time we have the chance to confirm this we can't help it but be amazed, and seeing little children grow up is one of the experiences that makes us feel like that the most.
Every follower of Goldberg would remember the actress introducing her first great-grandchild, Charli Rose, in a video she posted to her Instagram with the newborn in her arms back in 2014.
While it feels like it was only days or months ago, in fact, nearly five years have passed since that cute moment on which the "Ghost" star noticed that she was trying to feed a baby for the first time in 40 years.
As hard to believe as this might be, pictures of Charli in social media don't lie about how much this little girl that has brought so much joy to her great-grandmother has grown, and she seems to get cuter and cuter as time passes.
Goldberg has not posted many pictures of Charli in the last years, but the girl's mother, Golberg's granddaughter Amarah Skye, has kept her followers updated about the child's development.
Skye goes by the name @skeezydoesit on Instagram, and she is not much into Hollywood's life, preferring to stay out of the spotlight. She describes herself as a visual artist.
In 1989, Skye, who is Goldberg's only daughter, made the "The View" co-host a grandmother when she was only 34 years old.
Apart from her great-granddaughter, the "Sister Act" star has three grandchildren, and she recently shared with the nicknames they have given her with "Good Morning America" host Michael Strahan.
According to Goldberg, back in November 2018 Charli couldn't pronounce the "W" in the actress' first name, so she called her "Oopi." Her grandchildren, unsurprisingly, call her "Granny."
Born Caryn Elaine Johnson, Goldberg, as she is known professionally, has had an impressive career, and even if she has had her up and downs like any other person, she is mostly recognized because of her talents and personality.
By the time she became a critically acclaimed actress for her role in 1985's "The Color Purple" directed by Steven Spielberg, Goldberg had already won a Grammy Award for Best Comedy Album for her work in "The Spook Show."
"The Color Purple" earned her the first nomination to an Academy Award, and her first win of a Golden Globe Award in the Best Actress category.
In 1991, she took the Best Supporting Actress Academy Award for her work alongside late Patrick Swayze in the supernatural love story "Ghost." She credited her co-star with helping her give the great performance that earned her the award.
Three years later she returned to the Academy Awards ceremony as the first woman to host the event on her own, which she did again in 1996, 1999, and 2002.
Please fill in your e-mail so we can share with you our top stories!