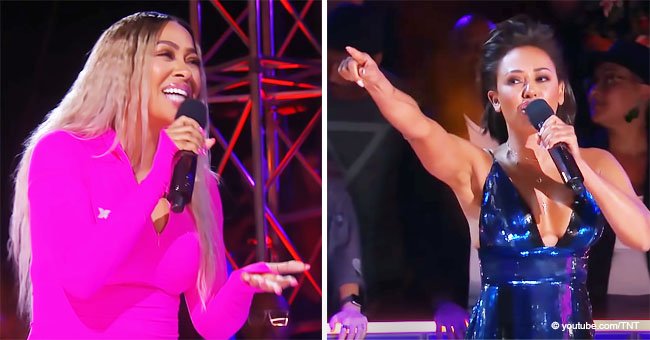 La La Anthony & Mel B Fire Shots at Each Other during Tense Freestyle Battle on 'Drop the Mic'

Mel B and La La Anthony let loose and fired shots at each other during their freestyle rap battle on the show "Drop the Mic." Their epic battle was extremely tense.
TNT network's new show titled "Drop the Mic," features celebrities going head to head in a freestyle rap battles. It is hosted by legendary rapper Method Man and top model Hailey Beiber.
The show allows famous friends and foes to rap heated verses in multiple rounds. Recently, Lala Anthony and Mel B. made an appearance on the show.
The pair faced off in an epic rap battle. Each firing well-aimed shots with their words and rhymes at the other.
"It's important that I say one thing off the bat, Mel B. is an icon I'll admit that," Anthony started. "The Spice Girls were huge, had hits that were consistent, but you were nothing more than Victoria's assistant. What's up with that look Mel? Are you even tryin'? I thought you were Scary Spice, not Terrifyin'."
Her epic diss had the audience cheer her on. Mel B. then hit back at the basketball wife and former MTV presenter.
"Lala used to be a VJ so correct me if I'm wrong, but all she ever did was introduce my hit song. She was so god awful if you remember, because of her MTV stopped playing videos forever," rapped Mel B.
Mel B. went on to jab at Lala's husband Carmelo. She called him out saying that he can't seem to get an NBA Championship ring even though he put a ring on La La.
The show is designed to leave fans and artists laughing. While the personal jabs certainly made the moment slightly awkward both Mel and La La appeared to be enjoying the moment.
In the end, Method Man praised Mel B. for her effort. However, La La was crowned as the rap battle champ.
Her win isn't the first time La La made news recently. Last month she finally revealed why reconciled with Carmelo after their 2017 split.
"We're good," La La said. "I mean, we've been together for a really long time so we're figuring out how to make it work for what is best for Kiyan and what is best for us."
Please fill in your e-mail so we can share with you our top stories!