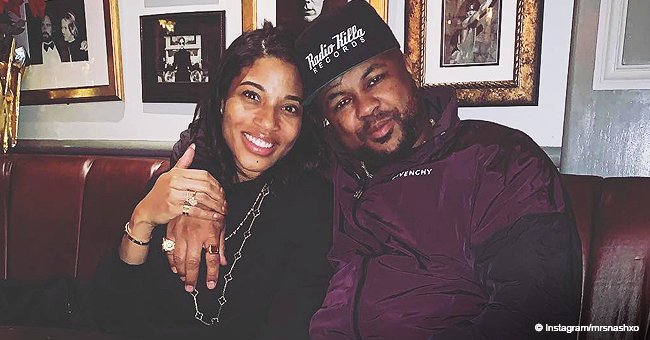 The-Dream and Wife Lalonne Expecting Baby Number Four - the Producer's Ninth Child
Terius "The Dream" Nash is expecting his fourth child with his third wife. The rapper who also has children from three past relationships is set to become a father for the ninth time.
Valentine's Day was even more special for Terius "The Dream" Nash and his wife Lalonne Martinez who announced she's expecting their fourth child together.
Revealing she was 21 weeks pregnant via a hashtag at the time she announced the news last month, Martinez revealed a photo of her slightly bulging tummy as she leaned next to her husband.
"Everyday is a reason to celebrate love," she wrote on her caption revealing how strong their marriage is after four years. The pair wed in 2014 and delivered a child every year after. Sons Heir and Lord were born in 2015 and 2016 respectively while their daughter Maverick was born in 2017 despite Martinez admitting she was on an IUD when she was conceived.
"Don't hold out on your love when it's not a holiday…let that special someone know how much they mean to you everyday," Martinez advised her followers in the remainder of her caption.
The couple's fourth child will be Nash's ninth collectively. He has a son with ex Lydia Nam, daughters Talia and Violet with ex-wives, singer Nivea (who also shares twin sons London and Christian with him) and Christina Milian.
Milian and Martinez are friends. In fact, they went on a blended family vacation in Puerto Rico along with Nash and their children. Photos from the family affair were shared by the singer in August, grateful for her co-parenting friendship with Martinez.
"I'm having a blast raising these crazy little siblings together with you. This friendship/partnership is truly a blessing" she wrote to caption a photo of her and Martinez enjoying their time together.
Milian is currently in a relationship with Matt Pokora who has met her 8-year-old daughter with Nash. She admitted to Life and Style in May that she was ready to settle down again and have more children. At the rate her relationship is going with Pokora who she's been seeing for close to two years, it may not be long before we hear wedding bells in the horizon. And she can expect Nash, Martinez and their children to be there.
Please fill in your e-mail so we can share with you our top stories!