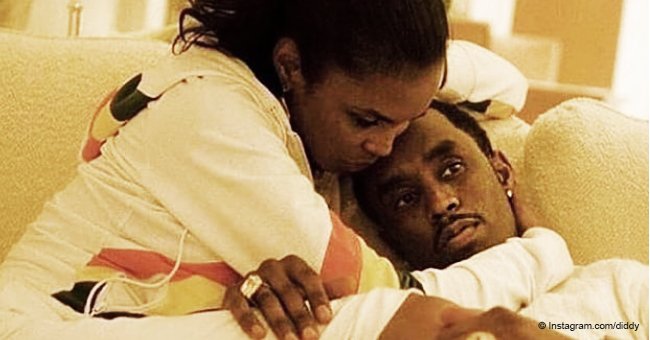 Heartbroken Diddy Admits in Public Reply to Fan That He 'Played Himself' by Not Marrying Kim Porter

Sean "Diddy" Combs is opening up about his feelings for his late ex and mother of his kids Kim Porter, recently admitting that he "played himself" by not marrying her.
It's been almost four months since Porter died tragically at her California home but Diddy is still grieving, and now, we know he's experiencing regret as well.
The billionaire music executive, on March 3, shared to Instagram a throwback photo where he was all cuddled up with Porter.
Giving insight into his feelings at the moment, Diddy captioned the image with a heartbreak emoji and had many fans consoling him in the comment section.
One fan, however, was not moved by Diddy's outpouring and seemed to be more concerned with the fact that the mogul didn't marry Porter while she was alive.
DIDDY'S DEEP REGRET
The angry fan did not mince words while calling out Diddy who he described as "confused."
"When she was alive you didn't wanna marry her."
The "Bad Boy Entertainment" boss did not dispute the words. Instead, his response portrayed a man consumed with regret:
"I know. Played myself. SMH."
HIS COLORFUL ROMANTIC HISTORY
Diddy and Porter had a rocky relationship on and off for 13 years, finally parting ways in 2007. The two share three kids: Christian, 20, and twin girls D'Lila and Jessie, 12.
Diddy raised Quincy, Porter's son from a previous relationship with music producer Al. B Sure. Also, he has two other kids: Justin, 25, who he shares with ex-girlfriend Misa Hylton-Brim and 13-year-old Chance, who was born five months before the twins by Sarah Chapman.
PORTER'S DEATH
Porter was found unresponsive in her home on November 15. She was 47. Her shocking death threw family, friends, and fans into mourning and condolences poured in on social media.
Despite not being romantic partners at the time of her death, Diddy's sorrow was too great to miss. His initial public response to the tragedy was a series of heartbreaking Instagram posts.
A PAINFUL LOSS
He referred to the situation as a "nightmare" and struggled to find the right description for the relationship he shared with Porter.
"I don't know what I'm going to do without you baby. I miss you so much," he confessed. "Today I'm going to pay tribute to you, I'm going to try and find the words to explain our unexplainable relationship. We were more than best friends, we were more than soulmates. WE WERE SOME OTHER [expletive]!! And I miss you so much."
Two weeks after Porter's November 24 funeral, Diddy cried out again on Instagram, this time asking for God's help to deal with the pain.
"HELP ME. HELP ME. GOD PLS HELP ME!!! PLEASE PRAY FOR ME CAUSE MONEY CAN'T STOP THE PAIN!!! ONLY YOU CAN GOD. ONLY PRAYER CAN HELP ME GOD PLS HELP US!!! IF I DIDN'T NEED THE PRAYERS I WOULDN'T ASK. Prayer works. THANK YOU SO MUCH. THANK YOU. WE all WE GOT! YOU ARE ALL WE GOT!!!?"
Porter's cause of death was officially revealed in January to be lobar pneumonia, a kind of pneumonia identified by inflammation of a lobe of the lungs.
Please fill in your e-mail so we can share with you our top stories!