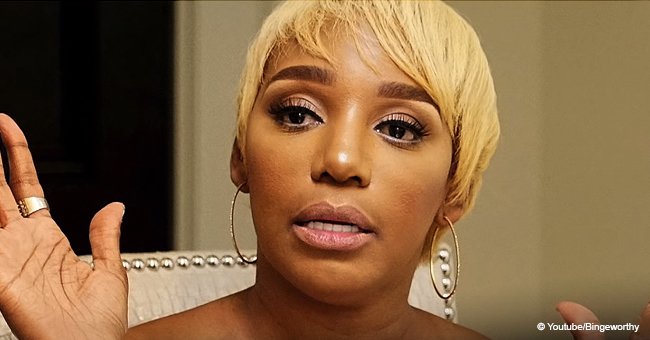 Nene Leakes Skips 'RHOA' Episode, Unfollows Andy Cohen & Castmates after Rudely Grabbing Cameraman
After her meltdown on last week's episode of "Real Housewives of Atlanta," and recording the final reunion of the season, Nene Leakes has unfollowed most of her castmates, and Andy Cohen, on social media. Cohen says fans have to wait until the reunion airs to understand why.
Nene Leakes was noticeably absent from Sunday's episode of "RHOA." She wasn't present at Kandi Burruss' "Welcome to the Dungeon" party, and neither filmed any scene on her own.
However, Leakes did attend the tapping of the final reunion of the season last Thursday, as she teased her fans on Instagram with the photo of a black and golden heel and a sheet with her name on it, and captioned it:
"I'm in the house! Bring it...RHOA Reunion season 11 #OG #Threat #headbi**hincharge #watchoutheels."
However, things seem to have gone a bit awry for the "OG" real housewife, since she ended up unfollowing most of her castmates, except for Marlo Hampton and Shamari DeVoe, plus show producer Andy Cohen on Instagram.
It was during Sunday's episode of "Watch What Happens Live" with Andy Cohen that he got the news on air.
The new father was interviewing Cynthia Bailey and Marlon Hampton when a fan called to ask why did Leakes unfollowed everyone, to which Marlo teased, "You're gonna have to tune in for the reunion for that one."
"Suffice to say, I don't think NeNe was thrilled when she left the reunion," Andy added.
A few minutes later, Cohen announced to his audience, "By the way, the control room is telling me NeNe also unfollowed me as well!"
This new controversy comes just one week after Leakes received backlash for having a meltdown on camera when Kandi Burruss, Porsha Williams, and a cameraman tried to peep into her closet, even though she had warned them not to.
The reality star ended up grabbing the camera man's shirt and ripping it off to prevent him from going in, and although many fans thought she overreacted, Leakes defended her actions on "Watch What Happens Live," when she was still on good terms with Cohen.
When asked if she overreacted about the girls going into her closet, Nene said, "No, I did not." And continued:
"How are you going to overreact in your own home? If I tell you to visit me and sit right here, you need to sit right here. You don't have the right to go through my house to open my doors, my closets, my pantries, none of that."
"When you come to my house, you're not going to disrespect my home," Leakes added. "They were not in the right. Because you can't come in someone's house. … They weren't even invited upstairs. They just came upstairs on their own."
Leakes extended her side of the story on her new YouTube channel, explaining that before the recording at her home, she explicitly told her producer that her close was off limits. A perfectionist, Leakes didn't want the world to have a look at her large wardrobe while it was messy and all over the place.
So, when not only the girls but also the cameraman didn't follow her instructions, Leakes lost it.
"I don't even know why I have to explain anything in my house. If I tell you that you can't go in my closet, you can't go in my closet," Leakes said.
Now, fans are eager to know what went down at the reunion to prompt Nene to unfollow everyone, including Andy Cohen, for whom she even threw a baby shower last month.
Please fill in your e-mail so we can share with you our top stories!