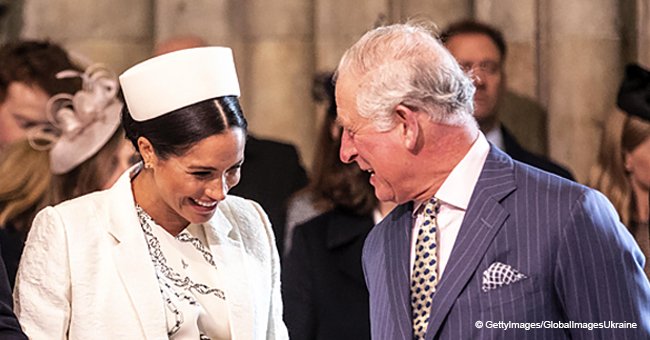 Meghan Caught Laughing at Prince Charles' Joke as She Curtsied to Him for the First Time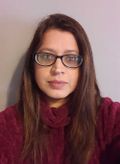 The Duchess and Prince Charles were spotted sharing a laugh recently in what is deemed a heartwarming peek into their father/daughter-in-law relationship at Westminster Abbey.
Fans were privy to a lovely moment between Meghan Markle and Prince Charles recently with many regarding His Royal Highness as being the perfect father figure to the Duchess in light of her own daddy-drama.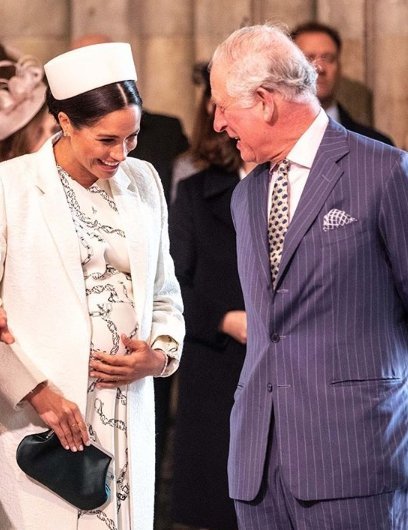 Prince Charles and Duchess Meghan at Westminster Abbey. | Source: Instagram/Kensington Palace
The Duchess appeared to laugh out loud at something her father-in-law said and their demeanor and body language spoke of an easygoing relationship where playful banter is the norm.
Their private conversation occurred after they marked another special occasion, Meghan's first curtsy to Harry's dad since their wedding.
The pair were at Westminster Abbey for the annual service to commemorate the 53 countries that have made up the Queen's Commonwealth for the past 70 years.
She and Harry had attended an event at Canada House in London earlier in the day to represent the Queen's Commonwealth Trust, of which Meghan is the new vice-president.
For Westminster Abbey, Meghan paired a Victoria Beckham dress with a matching hat and wore a cream coat over the ensemble. The couple was the first senior royals to arrive for the service.
The Queen was last to make an appearance, but she arrived without Prince Philip who retired from royal public engagements in 2017. Prince Andrew accompanied her to the important event.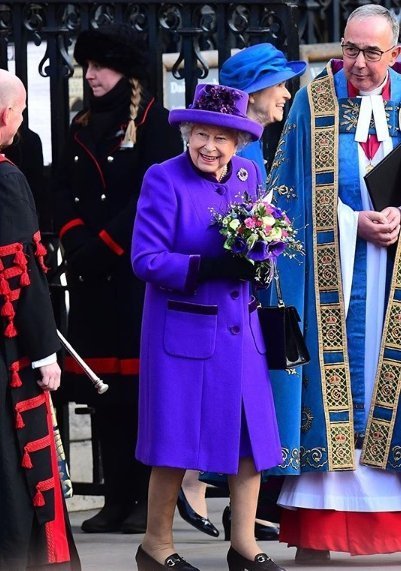 The Queen at Westminster Abbey. | Source: Instagram/Kensington Palace
The Commonwealth has played a huge role in the Queen's life who dedicated herself to the empire when she turned twenty-one in 1947, proclaiming:
"I declare before you all that my whole life, whether it be long or short, shall be devoted to your service and the service of our great imperial family, to which we all belong."
Meghan and Kate, who greeted each other warmly with a kiss, curtsied flawlessly to the Queen upon her arrival while William and Harry respectfully bowed their heads.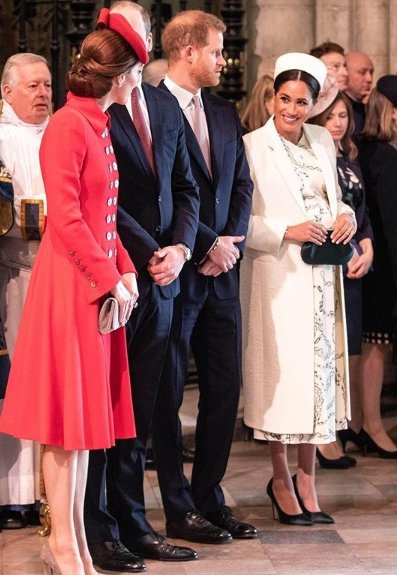 Duchesses Meghan and Kate inside Westminster Abbey | Source: Instagram/Kensington Palace
Meghan's tumultuous relationship with her father and siblings has been a thorn in the royal family's side since her marriage to Harry.
Fans believe that her American family is cashing in on her royal relationship between book and press deals and are distraught over their constant attacks on Meghan.
Please fill in your e-mail so we can share with you our top stories!