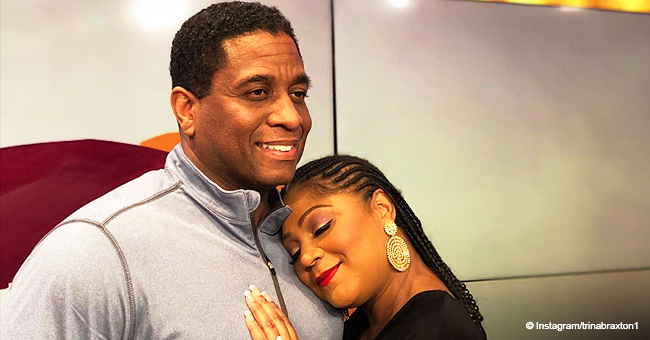 'My Fabulous Fiancé,' Trina Braxton Announces She's Engaged and Shows off Her Stunning Ring

Trina Braxton shows off her beautiful ring as she flaunts her "fabulous fiancé" announcing their engagement. The pair began late last year and got engaged during Tamar Braxton's birthday.
Trina Braxton is engaged! This was the announcement she made when she shared a photo of herself and her "fabulous fiancé," Von Scales.
Trina met Von, a former athlete, late last year. He owns a chronic pain center in St. Louis. Their engagement reportedly took place during a trip to Napa Valley with the rest of the Braxton clan. The vacation was supposed to be part of her sister, Tamar Braxton's birthday celebration.
Cameras for their show, "Braxton Family Values" were there to document the engagement which will be featured on the WeTV program's 7thseason when it premieres in April.
Tamar was reportedly upset by the engagement because of its timing. She made her feelings known when she went live on her Instagram. Already disappointed that her sisters didn't make "a big deal" out of her birthday, she complained further about being overshadowed by Trina's engagement.
"This ain't the time or place for this," she told her followers, as she looked bored at a party.
Meanwhile, Trina showed off her engagement ring when she shared a photo to announce the news. With her eyes closed, she leaned her body against Von while placing her hand on his chest, revealing the rock that sealed their future.
"My fabulous fiance' and I @sistercircletv. Thank you @ricardobastajewelry for assisting @vonscales. I love you baby!" she wrote to caption the pic.
Trina's was married to Gabe Solis for 15 years. They have two sons and divorced in 2015. In December, Trina shared the sad news that Gabe had passed away. Reports suggest he died of cancer not many knew he had.
As for Von, he's reportedly the father of two sons, one of which is a 21-year-old football player for the University of Missouri.
Please fill in your e-mail so we can share with you our top stories!