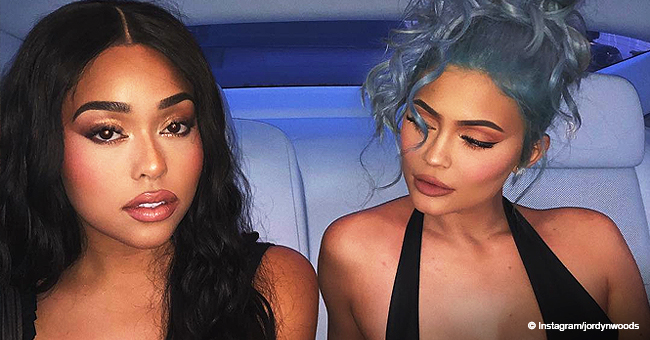 Jordyn Woods' Mom Comments on Kylie Jenner's Photo Making Fans Think Their Friendship Is Not Over

Elizabeth Woods may have given fans a hint that all is not lost between her daughter Jordyn and Kylie Jenner.
Two months ago, Kylie Jenner and Jordyn Woods were best friends, together for most of their lives, and their bond seemed indestructible.
Then, one kiss at a Valentine's Day party destroyed the two women's relationship, as Jordyn's loyalty was brought into question. Now, a brief comment on an Instagram post hints that the two may be on the verge of reconciliation.
"Happy birthday to the strongest woman I know. there is no one like you. My Rock! Forever @elizabethwoods ♥️"
A SEEMINGLY INDESTRUCTIBLE FRIENDSHIP
Jordyn and Kylie had been friends since childhood, and as women they were inseparable. Then Jordyn was accused of hooking up with basketball player Tristan
The very public scandal shattered the trust Kylie had deposited in Jordyn, and the two became estranged. Although there were reports that the two women communicate, there was no evidence of a rapprochement, until now.
This tiny sign of complicity between the two families comes one day after Elizabeth's birthday
JORDYN WOODS' MOTHER COMMENTS ON A POST
The proof that the two women may be reconciling may be a comment left on one of Kylie Jenner's Instagram posts by none other than Jordyn's mother Elizabeth Woods.
Kylie posted an adorable photo of her daughter Stormi Webster clutching a pink Birkin handbag, and Elizabeth commented with three red hearts
JORDYN WOODS TRIBUTE TO HER MOTHER
This tiny sign of complicity between the two families comes one day after Elizabeth's birthday when Jordyn posted a loving tribute to her mother, calling her "the strongest woman I know."
Jordyn and Elizabeth have recently been together in London to promote her Eylure X Jordyn Woods Lashes collection.
JORDYN WOODS' REVELATIONS
Jordyn, who had initially been silent as the scandal unfolded, finally addressed the accusations that she had given Thompson a lapdance and had hooked up with him at his home.
She opened up to old family friend Jada Pinkett Smith on her talk show:
"On the way out, he did kiss me. No passion, no nothing, on the way out. He just kissed me. Like a kiss on the lips, no tongue kiss, no making out, nothing."
Jordyn denied being the cause of Khloé break up with Thompson, who is notoriously unfaithful, and had stepped out on the Kardashian while she was pregnant with his child. but the Jenner-Kardashian clan was unforgivo«ing.
Elizabeth Woods' comment is the first sign of a thaw between the two families.
KYLIE JENNER AND JORDYN WOODS' FALLING OUT LEFT MODEL OUT IN THE COLD
The estrangement between Jordyn and the Kardashian family was catastrophic for the 21-year-old. For years, her life - professional and personal - was inextricably intertwined with Kylie's.
When Jordyn was accused of cheating with Kylie's sister's boyfriend, the cosmetic mogul asked her to move out of her home.
The model was excluded from all activities or business dealings with the Kardashian family, and her professional life suffered a hard blow.
With a reconciliation in sight, Jordyn may be back on track to the good life, but it remains to be seen if the rest of the Kardashian family will accept her again.
Please fill in your e-mail so we can share with you our top stories!