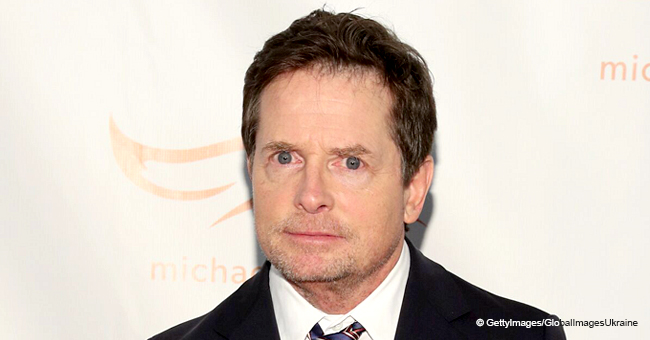 Michael J Fox Supports Selma Blair Amid Her MS Battle as She's 'Not Alone in Feeling This Way'
Selma Blair battles Multiple Sclerosis with grace while spreading awareness, bravely continuing her work as an actress, and raising her seven-year-old son.
In a recent Instagram post, Selma Blair posed for a selfie with Michael J. Fox who himself was diagnosed with
Parkinson's disease in 1991. Her caption said:
"I like this man. I am not alone in feeling this way. Notice our #underdog shirts. He has #misfits while I have on #badnewsbears. We are all a #timecapsule in this photo."
She added: "My heart ... mjf... your presence. You. The best. Thank you."
The 46-year-old reached out to Fox prior to being diagnosed with MS. She said doctors were not taking her seriously and she did not know what was causing the symptoms that she felt. Blair shared, "I said [to Fox] 'I don't know who to tell, but I am dropping things—I am doing strange things.' He got in touch with me and we began a conversation—so he really helped me. Plus I was like, 'I have Michael J. Fox's email now,' like that's pretty cool, I'm cooler than I thought.' But really, he gives me hope."
According to Blair, she was focused on recovery. Doctors have told her that she could regain "90 percent of [her] abilities back" over the next year. She also said, "I want to see—I want to see for other people, and I want to see for me and see where I am. I was a little scared of talking and even my neurologist said, 'No, this will bring a lot of awareness because no one has the energy to talk when they are in flare-up—but I do, cause I love a camera."
And what a picture of strength and dignity as captured by Mike Coppola, Getty Images staff photographer, at the Vanity Fair Oscar party in February of this year. Coppola shared, "I have never experienced a red carpet moment so intensely human as Selma Blair walking the striped carpet at the @vanityfair Oscar party last night. She appeared midway through the arrivals in a flowing dress struggling to walk with a shiny lacquered black cane. When she arrived at the second spot on the carpet she stopped again and looked up and started crying. Her friend helped her wipe the tears away as she looked up towards the ceiling. She then said that she was crying because she was so happy."
According to Coppola, at that moment, they all put their cameras down, looked at her, and started clapping and cheering for her. He said that it was super emotional and he has never seen that happen on a carpet, "much less a carpet of this caliber."
He continued the Instagram caption with: "Selma was incredibly determined to finish walking the carpet and would not let MS or anything stop her. When asked to do an "over the shoulder" she turned around, put her left hand in the air and paused for a second as she was determined to take control of her body. I took my favorite shot of the night right then and captured (at least for my memory) one of the most vulnerable human moments I have been a part of in my Getty Images career. Absolutely AMAZING!!!!!!"
Blair had also met with Montel Williams who was diagnosed with multiple sclerosis in 1999. They both shared photos of their March 27 get together on their Instagram accounts.
Blair said in her caption, "Meeting of the minds. This is a force right here."
According to the 62-year-old Williams:
"I have to say how impressed I am by the dignity, the grace, and strength with which she is handing the challenges her diagnosis has thrown at her. She has demonstrated incredible courage both by facing these challenges head-on and by sharing her journey."
He continued, "Selma is a beautiful soul, an incredible mother to her son and a powerful advocate for us all."
He added, "Selma, I am proud to have you as a friend and Tara and I are honored to continue to support you in your journey. Remember that we have #MS—it will never have us unless we let it."
Please fill in your e-mail so we can share with you our top stories!