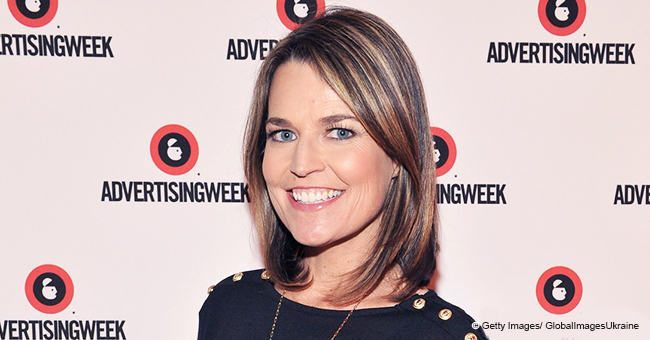 'Blessed' Savannah Guthrie Calls Her Kids 'Miracle' Children and Here's Why
Being "abundantly blessed" with children while in her forties did not come easy for Savannah Guthrie as she revealed that it took IVF treatment to get pregnant.
It was during an interview with Health that the subject of her two children, almost 5-year-old Vale and 2-year old Charley came up.
Savannah reminisced about a time when a chaotic after-bathtime experience turned into thoughts of gratitude as she said:
"This is abundance. I am abundantly blessed with this gaggle of crazy kids, running around naked, and trying to wrangle them. Ten years ago, I would have dreamed of that moment."
WHY SO MUCH LATER IN LIFE?
In her 30s Savannah worked on building a career. In 2003, she worked as a litigation associate at the law firm Akin Gump Strauss Hauer & Feld until she became a nationals trial correspondent for Court TV a year later.
Savannah started as a correspondent for NBC News in September 2007 and got named the White House correspondent for NBC News three months later.
Trying to raise children and build a career would have difficult under the best of circumstances. So for Savanna having children while in her 40s it "wasn't so much a choice" but rather "the way life happened."
WHY 'MIRACLE' CHILDREN?
Savannah and her husband Michael Feldman knew the risks and difficulty she might face in getting pregnant in her 40s but they decided to try as she elaborated:
"My husband and I, we decided, 'OK, let's give it a shot,' you know? But it ended up taking more than one attempt. It took a few. But we were lucky. I always say Charley was, like, the last egg out."
The Today anchor had Vale when she was 42 years old and decided to try and give her a sibling since they as parents are older, so she won't be alone if something happened to them. So naturally she was delighted when she found out she is pregnant a second time as she said:
"I knew it was the winning lottery ticket to have one child, so I never dreamed that I would have two. But with Charley, I did do IVF. So I would say Vale was a miracle, and Charley was a medical miracle."
The whole process made Savannah realize what a miracle bringing a baby into the world really is. "And we're so blessed. Going through what we did, it makes you realize that everything has to go just right to have a healthy baby," she added.
OTHER CELEBRITIES THAT USED IVF TREATMENTS
Quite a few other celebrities have turned to IVF treatments to be able to have children as well. Iconic Celine Dion and the late René Angélil went through seven treatments to have their three children. Celine gave birth to René-Charles in 2001 followed by twin boys Nelson and Eddy nine years later.
With René-Charles, Celine fell pregnant after just one cycle, but when she and husband René tried after she turned 40 it became much harder. A miscarriage and back to back treatments later she initially became pregnant with triplets although one sadly died which left the twin boys.
Another iconic woman that has openly spoken about using IVF treatments to get pregnant is former first lady Michelle Obama, shortly before the release of her memoir, Becoming, sat down for an interview and spoke of her difficulties in getting pregnant and how she and Barrack used IVF treatments to conceive their two daughters.
Please fill in your e-mail so we can share with you our top stories!