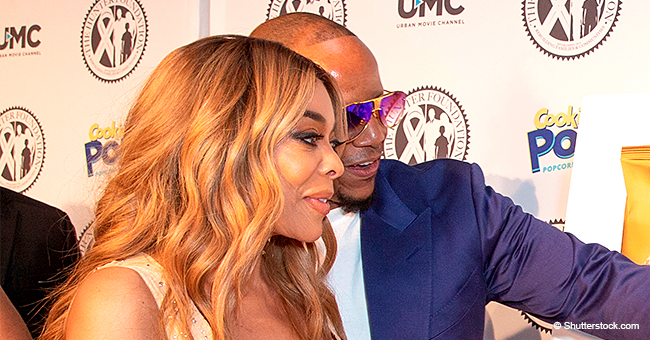 Blogger Tasha K Reveals Alleged Name of Wendy Williams' Husband's Rumored Love-child
YouTube blogger Tasha K has revealed the alleged name of the love-child born to Wendy Williams' husband, Kevin Hunter, and his alleged longtime mistress, Sharina Hudson.
Reports of Hunter and Hudson's baby first made the rounds in late March before sources confirmed that it was what eventually made Williams file for divorce last week, but not much has been heard about the baby since then.
MORE DETAILS ABOUT THE BABY
During a recent live session on her YouTube channel, "unWinewithTashaK," the blogger claimed that Hunter and Hudson's child, a baby girl, was born on March 22.
Tasha continued:
"The baby's name is – it's a little girl. She'll be a month on the 22nd of April. She looks, from what I've been told, just like Kevin [Hunter]; got his head and everything. It's karma. He's [Hunter] looking at himself. The baby's name is Journey Hunter. So, Wendy [Williams] is the proud stepparent of a baby girl named Journey Hunter."
PRIVATE INVESTIGATOR BUSINESS
The name has not been confirmed officially, but "unWinewithTashaK" was one of the very first outlets to break the news and provide extensive details about Hunter and Hudson welcoming a baby, so this latest information has garnered much attention.
A source reportedly confirmed Tasha's claims that Hunter and Hudson welcomed a baby when they told PEOPLE that Williams hired a private investigator that discovered the same thing.
The talk show host is said to have confronted her husband of 21 years who owned up to everything; it wasn't long after that she presented him with divorce papers on Thursday, April 11.
LOOKING AHEAD
Since then, Williams, 54, has talked about starting a new life with their 18-year-old son Kevin Jr and getting back on the dating scene even though it's with two platonic friends.
The "Wendy Williams Show" host who earlier revealed she had been living at a sober house to battle her addiction issues, also announced on Monday that she'd be moving out soon.
POTENTIAL COMPLICATIONS
From all indications, Williams cannot wait to be rid of Hunter, 47, even though the two share business ties that will likely make their divorce a complicated one.
Apart from being Williams' manager and production house co-owner, Hunter has also been a producer on her eponymous show since its debut in 2008.
According to E! News, however, a show spokesperson confirmed on Thursday morning that:
"Kevin Hunter is no longer an executive producer on The Wendy Williams Show. Debmar-Mercury wishes him well in his future endeavors."
We also previously brought you an exclusive report by The Blast that claims Hunter is in the process of negotiating a multi-million dollar settlement for walking away from his marriage and Williams' Emmy-nominated show.
In his first statement since Williams' divorce filing, Hunter vaguely alluded to his infidelity and seemed to confirm it.
"I am not proud of my recent actions and take full accountability and apologize to my wife, my family, and her amazing fans," he said. "I am going through a time of self-reflection and am trying to right some wrongs."
Please fill in your e-mail so we can share with you our top stories!