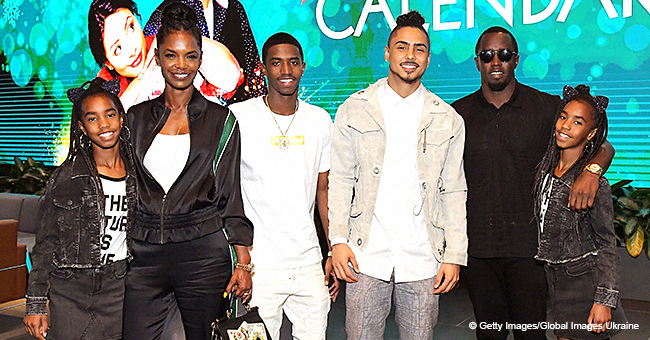 Diddy Proves He's a Dedicated & Loving Dad by Spending Easter Sunday with His Kids
Five months after the love of his life passed away, Sean "Diddy" Combs continues to embrace the "single dad" life as he surrounds himself with his kids for Easter.
Kim Porter's death last November left Diddy devastated, but since then, the father-of-six has been doing his best to take care of their blended family.
The music executive/entrepreneur celebrated the Easter holiday with his favorite people in the world: his kids.
Two weeks after Kim's funeral, he cried out in a moving post, asking for prayers from fans
Diddy, 49, took to social media with a video mash-up of priceless moments spent with the clan.
There was Quincy, Kim's 27-year-old son from a previous marriage that Diddy helped raise; Justin, Diddy's 25-year-old son with an ex; Christian, 21, and twin girls Jessie and D'Lila Star, 12, his biological children with Kim; and 13-year-old Chance, his daughter with another partner.
The video clips show Diddy been goofy with his kids and there was one where he planted a kiss on a twin girl's cheek.
"Happy Easter everyone!!! LOVE" wrote the "Bad Boy Entertainment" boss.
For one of the highly respected music heavyweights, Diddy quickly adjusted to being a single dad after Kim's death last year. Less than a month after her passing, the rapper was already nailing school runs and getting used to waking up earlier than usual.
Diddy shared his new life with fans on Twitter with a video of himself driving the twins to school.
"Today, the journey begins," he said in the clip. "Thank y'all for all your prayers and support."
Diddy continued:
"I'm now a part of the 6 a.m. crew. This is mommy-slash Daddy, Daddy-slash-Mommy checking in. this daddy-mommy thing is beautiful. I love it! You just have to get up early in the morning; like real early. When you all hear me say daddy-mommy, all my single mothers, they know what that is. Even some single fathers got to step up and play both roles. Mothers do it all the time."
The Grammy winner has also never shied away from asking for help whenever he needs it. Two weeks after Kim's funeral, he cried out in a moving post, asking for prayers from fans around the world.
"Please pray for me 'cause money can't stop the pain!!!" he wrote at the time. "If I didn't need the prayers I wouldn't ask. Prayer works. Thank you so much."
A few days later, Diddy was back on social media to thank everyone for their prayers and announce that his kids are smiling again.
From their latest Easter video, also, it appears the Combs family is healing nicely from the death of their loved one and staying together as one.
Please fill in your e-mail so we can share with you our top stories!