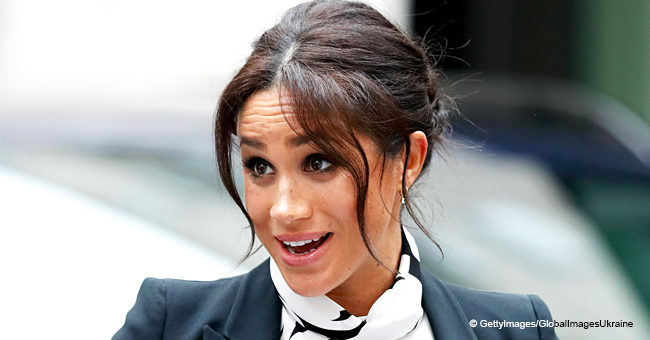 Meghan Markle's Name Becomes a Synonym for 'Ghosting' in the Urban Dictionary
The former "Suits" star's rise from humble origins to Hollywood fame and finally to Royal status has become part not only of pop culture but of English slang as well, as the online crowdsourced dictionary recognizes.
Although the two entries for "Meghan Markle" in the Urban Dictionary were added in 2018, one in January and one in December, the media have noticed it just recently, and they are giving this use of the Duchess' name a boost.
Major news outlets on both sides of the Atlantic, such as Fox News and Pop Culture in the US, and Daily Mail and the Daily Star in the UK, have reported on the newest slang term inspired on the 37-year-old wife of Prince Harry.
A DUBIOUS HONOR
While this gives Markle a greater status as a cultural phenomenon, it is a bittersweet honor to hold, since her name has come to mean someone who only thinks of herself and a synonym for "social climbing," according to her "haters."
"Meghan Markle: Verb for ghosting or disposing people once you have no use or benefit from them anymore without any regard to genuine human relationships," the site states since December 14, 2018.
This is inspired by the Duchess' cutting ties with people from her past and some relatives, starting with her father, ahead of her marriage to Harry, as a series of scandals unfolded.
The site offers examples of usage of the name "Meghan Markle" as a verb to denote this kind of behavior, mocking the mother-to-be.
"Do not Meghan Markle me when your movie comes out!" and "Mary did a Meghan Markle on her poor husband as soon as she became famous," are some of the examples quoted.
Prior to the above-mentioned entry, the Urban Dictionary registered another definition for the name of the Duchess of Sussex, as she has come to be known in the UK.
On January 28, 2019, the name "Meghan Markle" "officially" became a "noun for coming up nicely despite your family's socio-economic status."
"She's engaged to a Russian billionaire now. She Meghan Markle'd her way to the top," exemplifies the online lexicon.
DUCHESS DIFFICULT
Markle has been the center of endless controversy after she became involved romantically with the youngest son of late Princess Diana, and she has been nicknamed "Duchess Difficult" by some news outlets in the UK because of this.
She has also become target of insisting social media attacks based on her looks, her ethnicity, and her alleged overall unfitness to be a member of the British Royal Family, and none of this seems to be going anywhere because of her pregnancy.
Despite it all indicates that her father's frequent collaboration with gossip media put her in a position that forced her to cut ties with him, some people blame her of "ghosting" him and wonder if she will even let him meet his upcoming grandchild.
"I can't think for a moment that Thomas Markle will ever be able to meet his grandson or granddaughter," an expert interviewed for an unreleased TLC documentary on "Baby Sussex" stated.
"Once she got into Hollywood she turned into a different person. She's clearly forgotten her roots and her family," Meghan's estranged half-brother Thomas Jr. told Daily Mirror in 2018.
Meghan's difficult relationship with her family started to become evident when her mother, 62-year-old Doria Ragland, was the only relative of hers to attend the Royal Wedding on May 19, 2018.
MEGHAN'S ALLEGED FEUD WITH KATE
While the feud between Meghan and her parental family was what damaged her reputation the most, she was also the subject of rumors of a rivalry with her in-law Kate Middleton for months.
Fortunately, these rumors appear to have been dismissed once and for all after Meghan and Harry left a congratulatory comment on an Instagram post by Kensington Palace in celebration of Prince Louis' first birthday.
In fact, after Meghan gives birth to her first child, which is expected to happen any minute now, she will be needing much advice on Royal parenting, and having Middleton close will come really handy.
Middleton, mother of Prince George, Princess Charlotte, and Prince Louis, seems to be looking forward to becoming an aunt to Meghan's child and to welcome the new baby into the family.
"It's such a special time to have little kiddies, and a cousin for George and Charlotte, as well, and Louis. It's really special," she reportedly told the crowd during a public appearance in November.
Please fill in your e-mail so we can share with you our top stories!