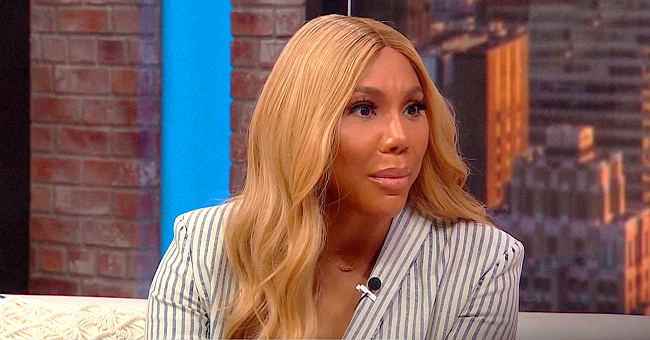 YouTube/PeopleTV
Tamar Braxton Reacts to Haters Who Shamed Her for Having Cellulite
Tamar Braxton slammed those who criticized her for having cellulite and "thick thighs" in an Instagram post.
Tamar Braxton had a perfect response for those who attempted to body-shame her over what they called her "thick thighs."
The stunning R&B singer was savaged by internet trolls after posting a video on the internet which showed her twerking.
"HAPPY Birthday to @KandiKAAAAAAAAAAANnnnnnnnnndice!!! ??????I'm so mad I won't be in my hometown tonight to celebrate with you? but I know that this won't be the last bday that you have that we bring in together!!" Tamar Braxton
VIDEO SHOWED KANDI BURRUSS TWERKING
The video was posted on May 17, 2019, to celebrate Burruss' birthday, and showed a clip from a show from "Kandi's Dungeon Tour."
Braxton was encouraging Burruss to twerk, but what struck the haters was the cellulite on the back of her thighs.
TAMAR BRAXTON SLAMS HATERS
Braxton responded by posting yet another video, this one showing her twerking on the pole, showing off her luscious body in sensual black lingerie and thigh-high boots.
"There is FORSURE more cellulite to kiss!!! Some of you are just PURE ignorant as to what a women's body REALLY looks like without a filter y'all post all about women's rights and etc but who hears us if we continue to shame ourselves and each other??? I am a PROUD woman and I have earned EVERY wrinkle and dimple," she responded.
TAMAR BRAXTON PRAISED "REAL WOMEN"
Braxton pointed out that the manipuçation of most images shared nowadays gives a false impression of what a woman's body really looks like.
TAMAR BRAXTON's HOT BOO LIKES HER "THICK"
The star went on to reveal that her handsome new boyfriend, Nigerian businessman David Adefeso, loves her body just as it is.
"@david.adefeso loves it and actually likes me thick. I have good credit, a FEW jobs, my bills are paid, my mama house paid for, my son is taken care of AND I'm living my BEST life!! If u can't deal with my dimples that's on you!!! Anyway happy birthday @kandi #giveitupforthebirthdaybih," she said.
Well done, Tamar Braxton, it's time someone stood up for real women and their adorable cellulite dimples.
TAMAR BRAXTON - FIRST AFRICAN AMERICAN WINS "CELEBRITY BIG BROTHER"
Tamar Braxton has been having an amazing year, and she kicked it off by winning "Celebrity Big Brother" Season 2.
She is the first ever Black contestant to win a "Big Brother" in the United States.
Braxton won every single vote went and took home $250,000, while fellow contestant Ricky was awarded the second place prize of $50,000.
Please fill in your e-mail so we can share with you our top stories!