Lamar Odom Says Khloé Kardashian Is a Good Mom Because She 'Practiced' on Him
Khloé Kardashian's ex-husband, Lamar Odom, went through a lot before and after their divorce. The NBA star has compiled those experiences in a new memoir book, and while doing press rounds to promote it, he talked about Khloé and what he thinks of her as a mom.
Lamar Odom is a renewed man, or at least he likes to believe so, as he explains in his new memoir book "Darkness to Light."
The former L.A Laker player, who famously married Khloé Kardashian in September 2009 just one month after they met, recently sat down with Diana Madison on the Hollyscoop set at Obsev Studios for an in-depth interview about his life.
KHLOÉ PRACTICED HER MOM SKILLS ON LAMAR
After mentioning that he hasn't had the chance of meeting Khloé face to face in years, he admitted that the reality star and Good American designer must be an amazing mother to daughter True—whom she shares with cheating ex-boyfriend Tristan Thompson.
Odom explained his reasoning:
"I can imagine that is one spoiled baby because I was a grown a**man and she spoiled me with everything I wanted and everything I ever needed. I can imagine she's a good mom. I was her practice earlier."
Lamar, 39, also addressed his infidelity to Khloé as one his biggest regrets.
"I had an Armenian angel, I had a great wife, and I didn't treat her well," he admitted. "I never had the opportunity to tell her how thankful I was for wiping my a*s," he added.
When asked to deliver a message for Khloé through the show, Odom didn't hesitate, saying:
"Thank you, Khloe, for everything you did to me. Hopefully, I'll have the opportunity to show you face to face."
STICKING BY HIS SIDE IN THE DARKEST TIMES
Kardashian filed for divorce in 2013 after Lamar's drug addiction, and infidelity became too much for her to handle.
However, in 2015, when Odom fell into a coma after a suspected drug overdose in Las Vegas, it was Khloé who stepped up to take care of him, putting a halt on the divorce proceedings.
"She was my angel," Lamar said of Khloé, who was by his side most of the time while he was hospitalized.
"When I woke up out of the coma, my memory was terrible, and I couldn't walk or talk, and just her spirit, always being there, her bringing pictures of my mother, my grandmother, just to help me bring my memory back," he recalled of that time in a separate interview with BuzzFeed's "Profile" show.
"I literally didn't leave the room for a month," Kardashian told People at the time. "I wasn't sleeping as well. I went a week without showering. Mentally, it took its toll. But it wasn't about me. I realized how much it was about [Lamar] so I didn't think twice about it."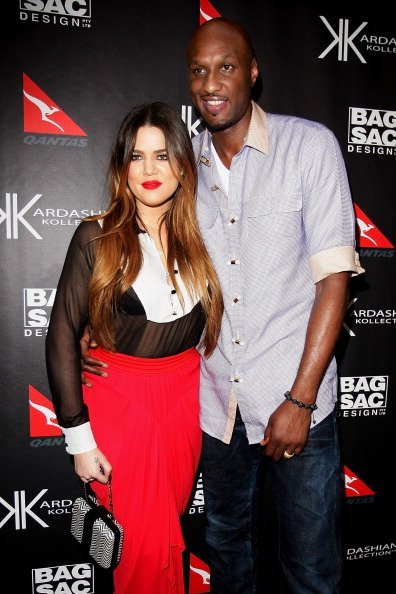 A BETTER MAN
In his book, Odom gives his audience a look into the darkest moments in his life.
From losing his mother and his son to his fight against drugs and admitting his sex addiction led him to be with around 2000 women—something he's not proud of—the disgraced basketball reflects on how every moment had a lesson and, hopefully, he became a better person after that.
"I think everyone at least knows someone or somebody in some which way, form, or fashion who's suffering from addiction," he added. "So if I can help some people by just telling my story, it'll help me keep my head high."
"Even in my darkest moments," Odom said, "I always try to walk with my head high."