Tika Sumpter's Fiancé Pens Touching Birthday Tribute for Her 39th Birthday
Their interracial love has been put to the test by online trolls one too many times but Tika Sumpter and her fiancé, Nicholas James appear to be waxing stronger as is evident in his birthday tribute to the actress.
Sumpter turned 39 on June 20, and her beau/co-star went all out with a touching message on Instagram that shows just how much she means to him.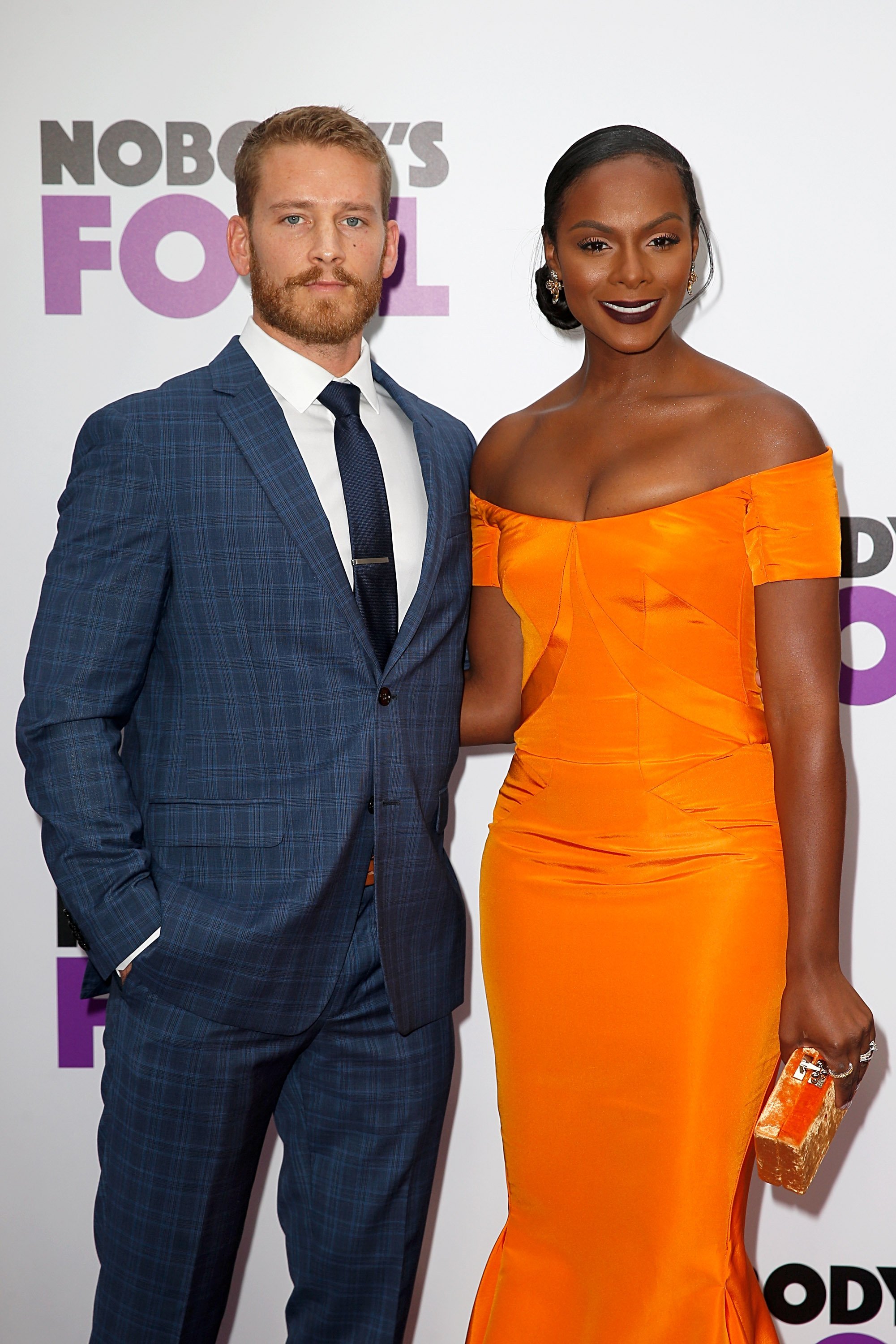 James shared a selfie with Sumpter sporting her natural curls and smiling into the camera while wrapping an arm around his neck. The accompanying caption read:
"My entire world turned upside down when I met this woman. She's loving, she's charismatic, she's a total boss, she's wise, she's the most incredible mother to our child, she's taught me so much and we've grown so close. HAPPY BIRTHDAY to the woman of my dreams. You look more gorgeous than ever. I'm so lucky to be with you and watch you grow. Xoxo [Tika Sumpter]."
ONLINE REACTION
The actor's message had fans and well-wishers' hearts melting in the comment section. "Awww look at these two lovebirds," gushed one Instagram user.
"I love y'all together!!!" echoed another. "Legit, one of my favorite couples!!!"
A CHRISTMAS PROPOSAL
James and Sumpter welcomed their daughter, Ella-Loren, in October of 2016 and were engaged the following Christmas. The "Southside With You" star dished on her romantic and simple proposal during a January 2017 appearance on "The Real."
"He did all of these amazing things. I went on a little hunt in the house" Sumpter recalled, admitting that she thought that was how James was going to propose. Instead, "it was a Peloton bike he'd bought me. …and I was like, 'Oh, that's cool!'"
As it turned out, the real deal was wrapped behind their daughter, who at the time was only two-months-old:
"And then he had a letter behind Ella and was like 'Ella has something to say to you.' It was like this letter of just beauty and he proposed! It was just so simple and just awesome. It's been burning a hole in his body for a while, so he was like, 'I wanted to do this now.'"
TROLLS COME FOR THEIR LOVE
The lovebirds met on the set of Tyler Perry's "The Haves and the Have Nots" which airs on OWN; Sumpter plays Candace Young while James gives life to the character of Officer Justin Lewis.
The pair kept their relationship under wraps for a long time until Sumpter revealed her fiancé's identity in a 2017 Fathers' day shout-out. Not too long after, trolls began to attack their relationship, with most of the negative comments bordering on Sumpter's choice of a white lover.
SUMPTER'S 'PROMISE'
For the most part, the actress and James ignore the mean remarks, but once in a while, Sumpter makes sure to remind everyone that she has an angry side.
"I fell in love with who I fell in love with. And that's the end of the story," she retorted last October. "But you're not going to play him [James], and you're not going to play me. I may be cute and sweet, but I will clap back."
Happy birthday to the sweet and feisty Tika Sumpter!