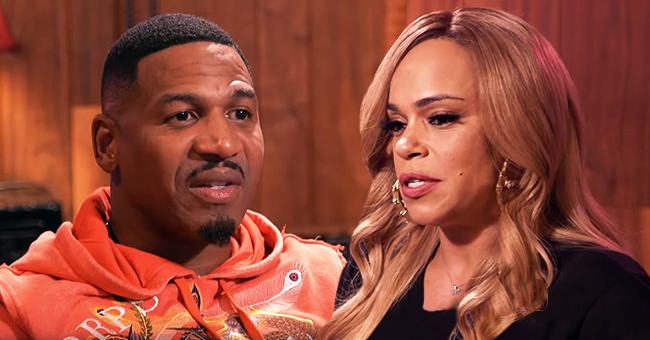 Youtube/VH1
The Cryptic Messages from Stevie J. & Faith Evans after Allegedly Unfollowing Each Other

Just weeks away from their 1st wedding anniversary there seems to be trouble in Stevie J and Faith Evans's marriage.
Social media is buzzing since Stevie J and wife Faith Evans apparently unfollowed one another on Instagram.
Is the much-touted celebrity wedding on the rocks? Stevie J posted several cryptic messages on Twitter that has fans wondering if this is the end.
TROUBLED TIMES FOR DA JORDANS?
On July 17, 2018, Faith and Stevie shocked their fans by getting married secretly in Las Vegas after a whirlwind romance.
Now it looks as if some event has triggered a clash, as Stevie J tweeted:
"Drunk people always speak their truth."
Will the embattled couple make it to their first wedding anniversary?
DA JORDAN'S PATCHY ROMANTIC PASTS
Of course, neither Stevie or Faith are novices at love. Faith had been married twice before - to Stevie's friend The Notorious B.I.G., who died in 1997, and to Todd Russaw whom she divorced in 2011.
Stevie has a series of tempestuous relationships, and fathered 5 children with four women, the last of whom, Joseline Hernandez claimed he asked her to marry him just days before he tied the knot with Faith.
IS JEALOUSY PLAGUING DA JORDANS?
Another of Stevie J's cryptic tweets - coupled with his notorious past as an incorrigible ladies' man - seems to hint at jealousy as the root cause of the falling out between the couple.
"One's insecurities can damage them," he tweeted.
FAITH EVANS' RESPONSE
Faith appears to be responding to Stevie J's tweets with her own post on Instagram.
The R&B star quoted Albert Einstein:
"If you can't explain it simply, you don't understand it well enough."
Again, the hint seems to be that something untoward happened that spiked Faith's jealousy and which Stevie can't explain away.
Will the embattled couple make it to their first wedding anniversary?
FAITH EVANS AND STEVIE J'S UNEXPECTED ROMANCE
Almost a year ago, Faith Evans and Stevie J posted a series of cryptic tweets which hinted at a secret wedding.
The couple had dated on and off through 2016 and 2017, after which Faith announced the end of the romance.
A year later, the couple exchanged messages that indicated that they had married. In fact, the two had married secretly in Las Vegas, in an intimate ceremony.
Controversy followed the wedding with some fans considering Faith's marriage to Stevie J as disrespectful to The Notorious B.I.G., and with Joseline Hernandez posting indiscreet texts from the rapper sent just days before the wedding.
Please fill in your e-mail so we can share with you our top stories!