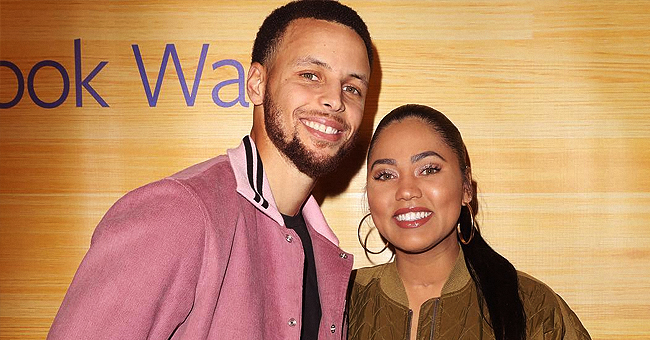 Instagram/ayeshacurry
Ayesha Curry's Loving Tribute to Steph after Chinese Man Allegedly Called Him N-Word
Steph Curry's Ayesha, posted a heartwarming tribute on Instagram after an Asian man allegedly called him the N-word.
Basketball star Steph Curry is currently in China on a mandatory tour for one of his sponsors, Under Armor, and that was where he was subjected to insult by an Asian man.
Steph's greatest fan and ardent supporter, Ayesha Curry, immediately posted a message of support to her husband on Instagram.
SHOCKING RACIST INCIDENT IN CHINA
Steph was signing autographs at a promotional event, when a man harangued him, calling him the N-word twice.
With commendable fortitude, the visibly upset basketball star ignored the abuse and continued signing autographs for his admirers.
AYESHA CURRY POSTS TRIBUTE TO HER HUSBAND
Within hours of the incident, Ayesha posted a tribute to her husband on Instagram. She added a snap of Steph and wrote:
"This is the face of resilience, drive, faith, hard work, compassion, fear of God but fearless of the world (...) When I saw this photo I saw our whole life those handsome eyes. Fighting the elements, sick and exhausted but still shows up with the best attitude. Ready to work and ready to make an impact."
"YOU'RE OUR FAVORITE AND WE LOVE YOU"
Ayesha went on to express her love, her support and her pride in her husband and told him she is counting the days until he is back home with her and their children again.
"Your son, daughters and I are just so proud of you my baby. You're the hardest working man I know. You never complain and I can't wrap my mind around it. You're our favorite and we love you! T minus 4 days ... I have this rooftop God gave me so I'm shouting from it," she wrote.
RACISM IS AN INTERNATIONAL PHENOMENON
It is shocking to see an athlete abused with racial slurs in a foreign country, and it seems clear that the evil of discrimination and racism is an international phenomenon.
Hopefully, Steph Curry will set aside the incident as a sad example of ignorance, and concentrate on the love and respect he receives from his family and his millions of fans.
AYESHA AND STEPHEN CURRY'S AMAZING RELATIONSHIP
Ayesha and Stephen Curry have known each other for a very long time, The two first met when she was 14 and he was 15 at a church youth group in Charlotte, North Carolina.
Years later they met up again in Los Angeles where Ayesha was pursuing her acting career and Stephen was in town for an awards show.
They started dating, and Ayesha moved back to Charlotte to be close to Stephen, who was playing college basketball at Davidson College and the two were married in 2011.
Stephen and Ayesha share three children: daughters Riley Elizabeth, 6, and Ryan Carson, 3; and son Canon Wardell.
Please fill in your e-mail so we can share with you our top stories!