Jill Duggar Forced to Explain Her Kama Sutra Instagram Post After Backlash from Fans
Last month, Jill Duggar and her husband, Derick Dillard celebrated their 5th anniversary together. Jill shared snippets of their celebrations on Instagram, unfortunately, fans reacted negatively to one of her revelations.
According to Jill, 28, they decided to take a trip to Branson, Missouri as part of their 5th-anniversary celebrations. While on the trip they spent time listening to live music, playing seduction games and eating out.
Jill took to Instagram to share a number of pictures from their holiday. In the caption, she revealed that they took the trip alone without their two children so that they could have alone time.
Shocking revelation:
She went on to reveal many of the fun things they did together. However, her most shocking revelation was her thank you note to a company called Dating Divas.
Jill revealed that the company gave them  resources to ensure "lots of fun, clean, date/marriage tips and ideas!" Amongst these resources was a seduction game and the Kama Sutra - a guide to lovemaking which featured in one of the pictures in Jill's post.
The risque game and book raised a few eyebrows.
In the picture, there was also a massage oil candle, a plate of Skittles, and a game scorecard. The scorecard was titled with the heading "Bedroom Edition."
The backlash caused by the revelation:
Considering the reserved, conservative way Jill grew up as a member of the Duggar family, the risque game and book raised a few eyebrows. Fans of the couple immediately took to the comments section to question the details included in the post.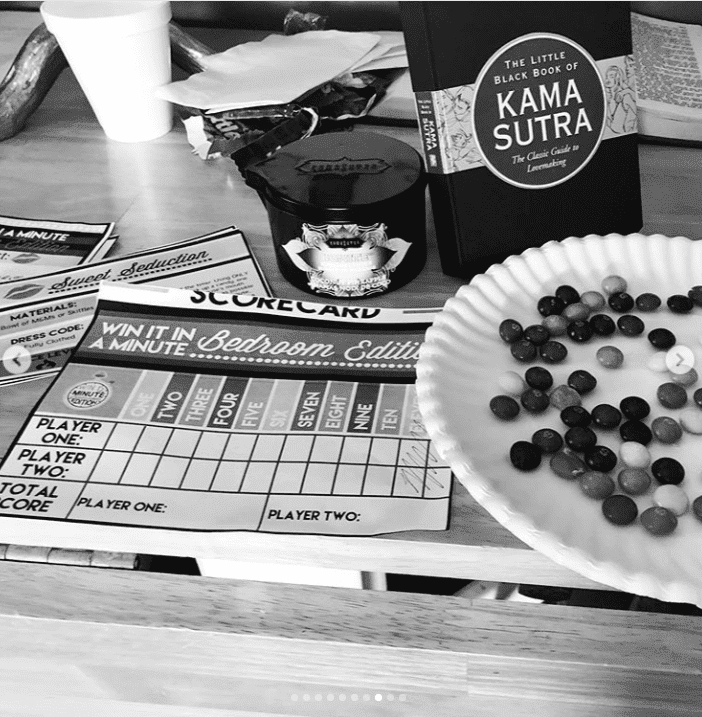 "No offense to y'all but I don't want to know what goes on in between the sheets!" wrote one fan. "Please keep it PG remember you were raised a Christian."
Many others agreed that the picture was too suggestive given the strict rules the Duggar's usually adhered to with regards to sex and sexual content. Another commenter took a more humorous approach and simply wrote: "NSD (not safe for Duggar)." 
"Bible open in the background, Kama Sutra and massage oil in the foreground…just weird. Why oh why do you feel the need to post this? You wear modest clothing to keep your body covered, yet you share intimate details about your sex life with the world? This is very odd to one," one fan pointedly commented.
Her response:
The backlash from fans caught Jill's attention. She decided to address the issue and revised her caption to defend her stance.
Jill added a note to her original caption writing:
"Note: We are not recommending the Kama Sutra. We believe marriage is ordained by God and husbands and wives should filter everything they read and hear together through the lens of the Bible and not practice anything unbiblical."
She went on to reveal that the version they had was "a modern, smaller, cleaner, edited version." Adding that the version also does not discuss "spiritual aspects, homosexual, or other extramarital relationships."
"It is always good to be aware and careful of what we allow into our minds, hearts, and marriages."
Jill added that they "don't take everything in there as the truth." She went on to advise her followers to carefully analyze their reading material as well.
"It is always good to be aware and careful of what we allow into our minds, hearts, and marriages. We've not read the actual Kama Sutra and only promote biblical marriage (i.e. between a man and woman who are married). We just wanted to clarify since there has been a lot of discussion after this post," Jill said concluding her post.
Another controversial statement from Jill:
It's not the first time the "Counting On" star has caused controversy. Just two months ago she openly recommended "[having] sex often." Jill explained on her family blog that in her opinion it is one of the "ways we can love our husbands."
"You both need this time together regularly. (3-4 times a week is a good start. lol)," wrote Jill Duggar.
Jill Duggar and her husband, Derrick Dillard tied the knot in June 2014. They have two Children together; Israel, 4, and Samuel, 22 months and appear to have a marriage filled with love.