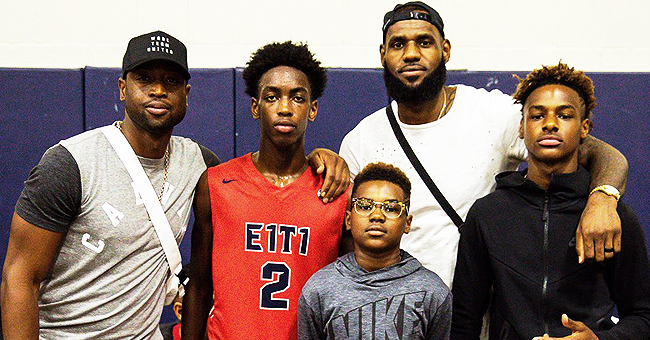 Twitter/SportsCenter
Watch Dwyane Wade & LeBron James' Sons Recreate Their Dads' Famous Alley-Oop Pass
Greatness and talent run in the genes of LeBron "Bronny" James Jr. and Zaire Wade, sons of NBA stars LeBron James and Dwyane Wade, and they're ready to prove their worth as they team up at Sierra Canyon this incoming school year.
Although Bronny and Zaire are in different classes, and Zaire is older than Bronny, the teenagers have been friends for quite a while thanks to their famous parents.
Dwyane Wade and LeBron James proved that teamwork makes the dream work while they played for the Miami Heat together. Now, their sons are gearing up to replicate the same chemistry and showmanship at Sierra Canyon School in Chatsworth, Los Angeles.
FOLLOWING THEIR DAD'S STEPS
Bronny, an incoming freshman, and Zaire, a senior, already started the practices alongside 2022 star and Sierra Canyon shooting guard Amari Bailey.
In a video shared by Sports Center, the trio can be seen playing together, but it was Zaire and Bronny who stole the show by recreating an "alley oop," one of the characteristics plays their dads used to perform.
The offensive play which consists of one player throwing the ball the basket to a teammate who jumps catches the ball in mid-air and slam dunks.
Although Wade was usually the player to throw the ball, and James the one to slam dunk, their sons reversed the roles. And they managed to perform the play flawlessly, giving fans a taste of what's to come when the pair stands together in the basketball court.
First-year students usually don't have a chance to prove their talent that much, but most experts believe Bronny will be given the opportunity, considering that it's highly probably that Dwyane and LeBron will be in attendance at the school's games to support their boys.
DWAYNE WADE'S LAST DANCE
Wade retired from the NBA a few months ago, but before making his triumphal exit, the 37-year-old made sure to enjoy his last All-Star weekend with Zaire by his side.
The 17-year-old was stuck by Wade's side during practices, in the locker rooms, press conferences, and got to warm up with the team, take lessons from James Harden and hang out with LeBron on their free time.
"A lot of people asked me about this weekend and what I was looking forward to, I was looking forward to sharing this with my son," Wade told the Miami Herald at the time.
And continued:
"I didn't mean no disrespect to my other kids or my wife or my mom or anybody, but me and Zaire started this thing together. I was a 19-year-old father. To be able to be here at 37 and have my 17-year-old son be here, and really understand what's going and be very close to his next level after high school coming soon. I wanted to give him this inspiration."
Zaire, on the other hand, said that after being with his dad through many All-Stars, getting to be with him on his last one was a special moment.
GUIDING HIS SON
"Next year, we're going to get real close," Wade said of helping Zaire to build a career in basketball. Adding:
"I'm going to spend a lot of time with him, but not in an overbearing way. I'm going to support his dreams. I know his dream is to sit right here in this circle where I'm sitting one day. I'm going to do everything I can to make that dream a reality for him."
"More life to come," Zaire said. "There's more things after this. So we're just getting started."
Please fill in your e-mail so we can share with you our top stories!